Top Inline Fitness and Commuter Skating Wheels for 2020
Wondering about the best wheels for fitness or commuter inline skating in 2020? This article will hopefully guide you through choosing the best wheels for these types of skating. There are many factors that come into play when attempting to choose the right wheels for inline fitness and commuter skates and there is no way we can possibly cover every aspect of wheel buying in one article. This article is intended to be a guide and though it has recommendations for the "best" wheels, it cannot possibly cover the unique needs of every skater. We hope that by reading this guide you will be able to better determine what wheels are right for you. Because so many of our customers ask us "what wheels are best for fitness skating" and "what wheels are best for commuting", we want to address as many questions as we can here for everyone to see. We know you want to hit the pavement (on your skates, not on your face…please don't do that…it wouldn't hurt to take a look at our safety gear while you're here though) so take a look at our suggestions, give us your 2 cents in the poll and start putting miles on your new wheels!
These wheels were chosen based on customer satisfaction, purchase history, durability, return rate and warranty, technology used, and the overall look and feel of the wheel. We also have over 100 votes on our poll and encourage you to vote so that we can continue to provide up-to-date information on your needs, wheels, and other inline related awesomeness!  Last year, "Anywhere I can get some miles in" was the clear winner with "The easiest place I can find" and "To work" right behind. Please keep in mind this page can change at any time at our discretion as technology and the industry changes. If you're not sure if this is the kind of skating for you, please check out our What Are Inline Skates Article for more information on the different types of inline skating.
Most Popular Wheels for Fitness and Commuter Inline Skating – 2020
There's no doubt that inline skating is becoming more and more popular and we're not surprised! It's apparent by the amount of customers that ask us how to get into inline skating. Many of these skaters want to skate for a fun and calorie burning fitness option as well as ditching the car for a healthier way to get to work or school. There has been an explosion in the feedback we get from skaters on what their favorite wheels are for hitting the asphalt, track, and everything in between! Keep letting us know and voting in the poll on this page so we can keep this page up to date and accurate! Many of our fitness and commuter skaters prefer a quality 90mm-110mm outdoor wheel with a great price since they will be used a lot. Take a look below for our go to fitness and commuter inline wheels.
Atom Matrix Wheels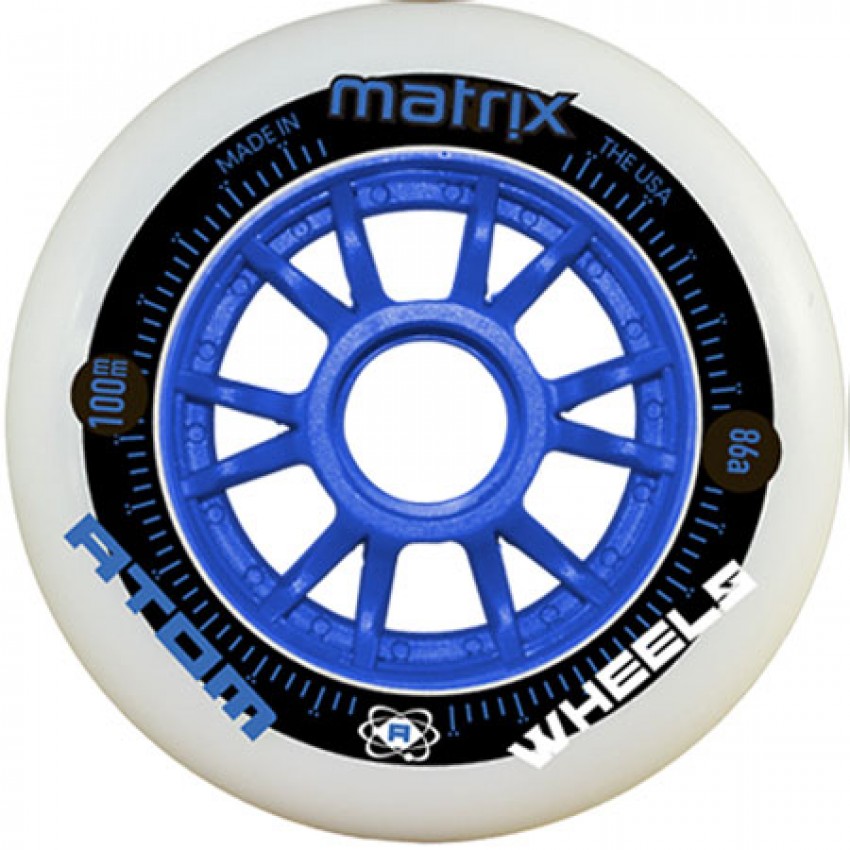 The Atom Matrix Wheels are a favorite in just about every category of inline skates! Not only can these wheels help you get where you need to go, they have an amazing price point. You won't feel bad about wearing out these awesome wheels when you can pick up a new set for such a great price. Atom Matrix Outdoor Wheels are durable, made to last on rough surfaces, and now come in four great colors too!
Luminous Wheels
These Luminous Wheels from Seba are a must have if you'll be doing any workouts or commuting at night. As you cruise, these LED wheels light up and cause the exterior color to glow magnificently, illuminating your every move. This is super fun for you and drastically improves your safety since you will be well seen by the other people and cars around you!
Mota Amped Hybrid Wheels
These amazingly priced Mota Amped Hybrid Wheels are great for indoor and outdoor. Whether you need to get to class or squeeze in your daily workout wherever you can find, this new and unique core design supports the tire and band so that you can grip and roll right through just about any surface. Get amped for a smooth ride at an amazing price!
Seba CK Wheels
These Seba CK Wheels are just what you need for a smooth ride during a workout or to get you to work on time! Don't let the price of these wheels fool you, they were made to last! With the quality urethane on these, you'll be flying down the street for miles and miles.
Thanks for visiting and reading our Best Wheels for Fitness and Commuter Skating Article. When choosing wheels for these types of skating, there are several factors to consider. If you're brand new to the sport, it's always important to get some recommendations from your awesome skating friends, coaches, and/or us here at Devaskation since many skaters have experienced different types of wheels and surfaces that maybe you haven't yet. Don't be afraid to try a few! For those expert rollers out there, take our recommendations to heart and let us know how your new wheels work for you. We have our finger on the pulse of the industry and the new products that are available so we appreciate every skater's feedback. One of the wheels above will most likely work for you!
Devaskation.com was not paid or "sponsored" by any manufacturer to place one product above another. Though we have been contacted by manufacturers to adjust our opinions, placement on this page is not for sale! The information herein outlines our educated opinion on the best wheels for fitness and commuter skating. If you see any mistakes or errors please contact us and let us know! Also, this page changes often and you might find it in transition from time to time. This is simply a symptom of a living document, but we are always working to keep it updated and pretty.