Top Roller Derby Wheels
Wondering about the best wheels for roller derby in 2021? This article will guide you through choosing the best roller derby wheels. There are many factors that come into play when attempting to choose the right wheels for your roller skates and there is no way we can possibly cover every aspect of wheel buying in one article. This article is intended to be a guide and, though it has recommendations for the "best" wheels, it cannot possibly cover the unique needs of every skater. However, we hope that by reading this guide you will be able to better determine what wheels are right for you. Because our customers constantly ask us "what wheels are best for roller derby", we want to address as many questions as we can.
We have outlined several categories to help you choose the best wheels for the position you play in roller derby. These wheels were chosen based on customer satisfaction, purchase history, durability, return rate and warranty, technology used, and the overall look and feel of the wheel. We also have had over 2700 votes on our poll over the years and encourage you to vote for your 2021 favorites so that we can continue to provide up-to-date information on your favorite brands. Please keep in mind this page can change at any time at our discretion as technology and the industry changes.
Best Wheels for Roller Derby – 2023
  Categories for Best Wheels of 2021:
  Keep in mind the following factors when choosing the best wheels for you:
Most Popular Wheels for Roller Derby
There's no doubt Atom is still making the most popular derby wheels as they have in the past. That's apparent by the number of votes Atom gets on our poll. Not only is this brand hot, the majority of the brand's products were developed by world champion skaters. In Atom's line of wheels, the most popular wheels are the Savant, Boom, and Poison wheel. Mota has developed some amazing wheels including their TKO and Toxic lines in the last few years that have quickly become favorites of the roller derby community! There has also been an explosion with the Radar Halo wheels this year as well as with the ever popular GrnMnstr Morphs! Keep voting and sending in your comments so we can keep this page accurate!
Atom Savant Wheels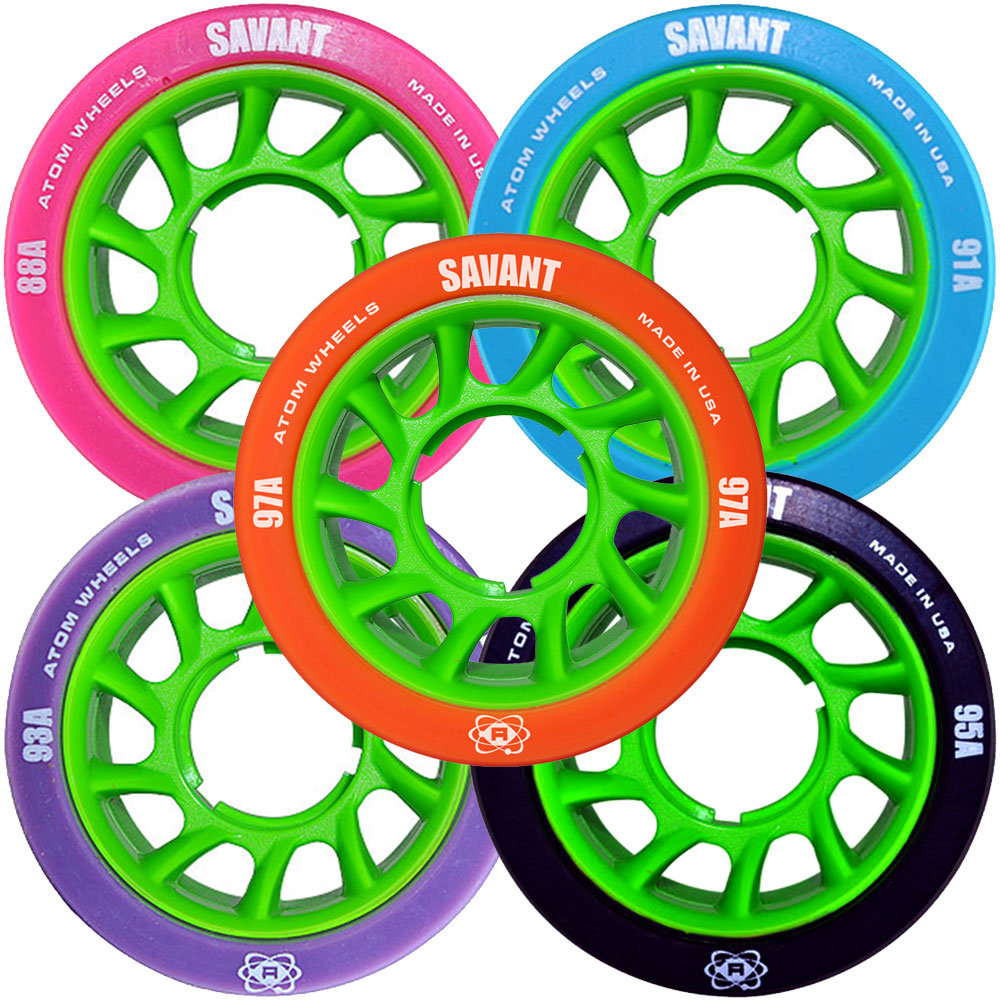 The Atom Savant Wheels are a huge favorite! These wheels are so light they won't even compare to any other wheel you've had. These wheels gained their popularity so quick we can't believe they just came out at the end of 2016. In 2017, Atom added a 97A to this line so you can fly down the track even faster. These wheels promise to be light, fast, and have just the grip you need. A new core design allows each wheel to weigh in at just 68 grams. A 5mm center urethane allows a fast roll, with a 7mm molded lip giving that grip in the turns.
Mota Toxic Roll Wheels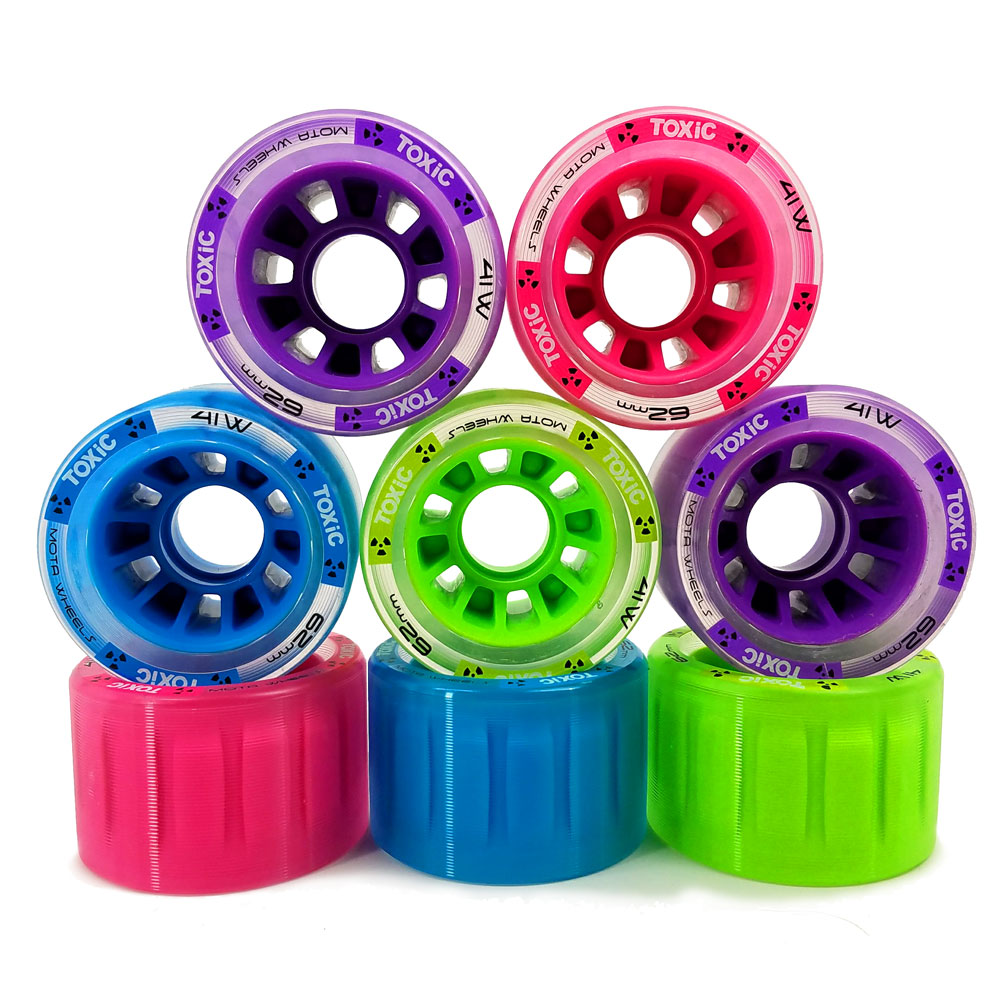 The Mota Toxic Roll Wheels have quickly become a go to roller derby wheel. These wheels are light and will give you the speed, grip and control you need to fly down the track. These wheels will roll like all of the great 93A wheels you've used and give you the extra grip of a softer hybrid wheel. As if that wasn't enough, you can get them in 5 vibrant colors! Not enough for you? Get these in a mixed pack so you don't have to choose which awesome color you can't live without.
Radar Halo Wheels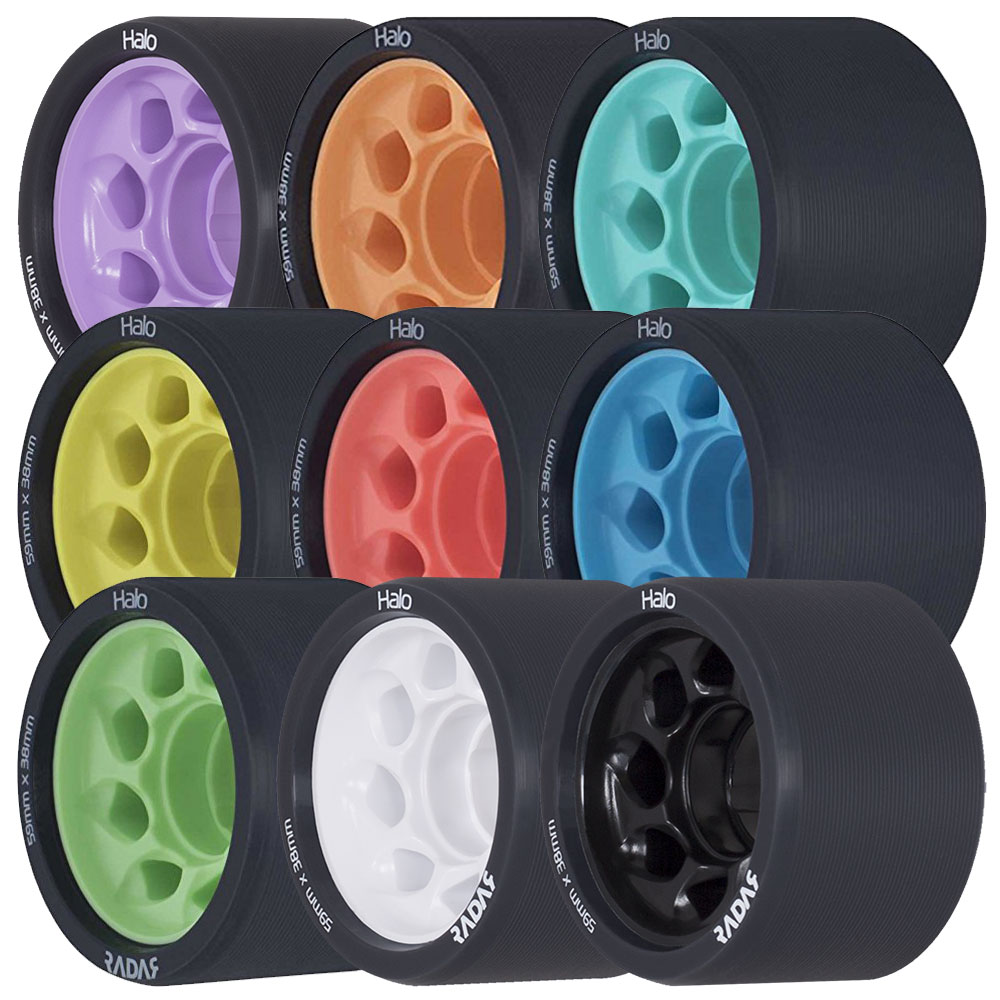 The Radar Halo Wheels are getting even more popular! The Halo is a culmination of nearly 2 years worth of research and design. More than simply a larger core, the Halo hub is designed for optimal performance with excellent feel. The inner and outer rings of the Halo hub are oversized, which reduces the amount of urethane on the edges of the wheel which makes it easier to perform stops and offers excellent response. This wheel was created specifically for modern derby, as it is played now, the Halo is a game changer and amazingly comes in hardnesses from 84A to 101A.
Reckless Morph Wheels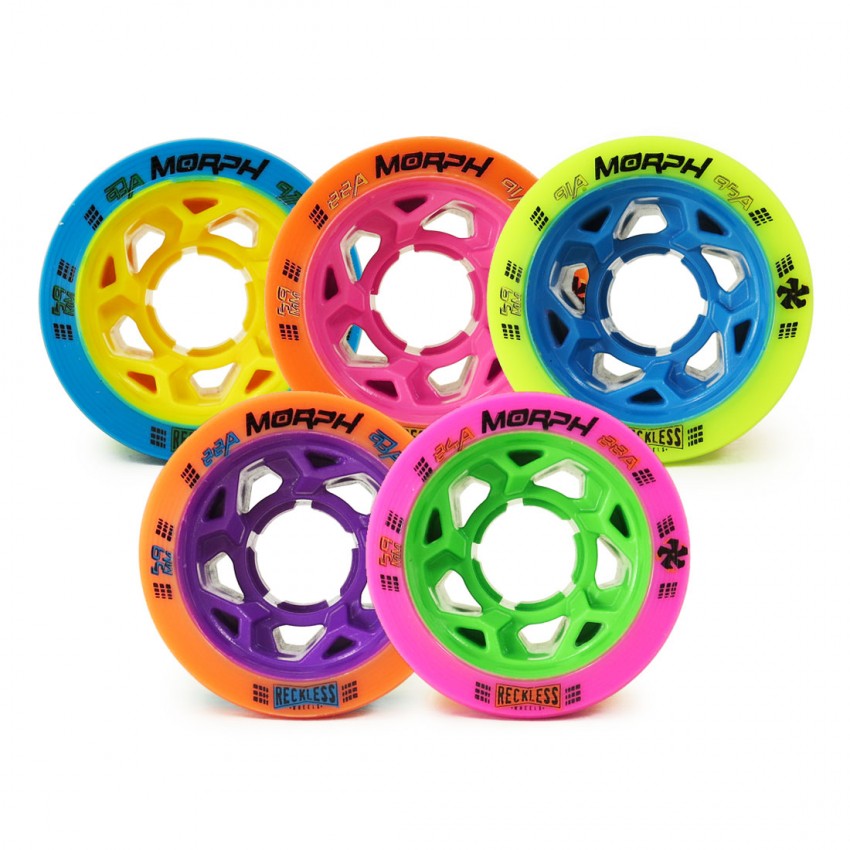 The revolutionary Morph from Reckless Wheels was developed to meet the high demands of elite derby players. With the amount of force, stress, speed, and punishment handed out by today's modern derby player, the Morph wheel had to perform like no other, and we have coupled our knowledge of the sport and their knowledge of wheel manufacturing to accomplish this. The Morph features a thoroughly tested and proven dual "stacked" urethane that delivers maximum speed, precise grip, and reliable stability. What does all this fancy technology talk really mean to you? It means this innovative process allows the fusion of a performance speed compound for fast roll, with a softer compound at the edge of the wheel allowing for better edge control.
Best Wheels for Jammers
Jammers typically look for harder, "faster" wheels because it's the jammer's job to move around the blockers and score points! With that in mind, different surface types are a big influence on the type of wheel a jammer uses. Therefore, our advice is to consider the wheel hardness and your weight before choosing one of the wheels we've recommended. Since everyone's setup and style differ, it's difficult for us to give specific advice on what wheel is "best" for you. However, we've outlined several wheels below that have varying hardness and tend to be popular with jammers.
Atom Juke Wheels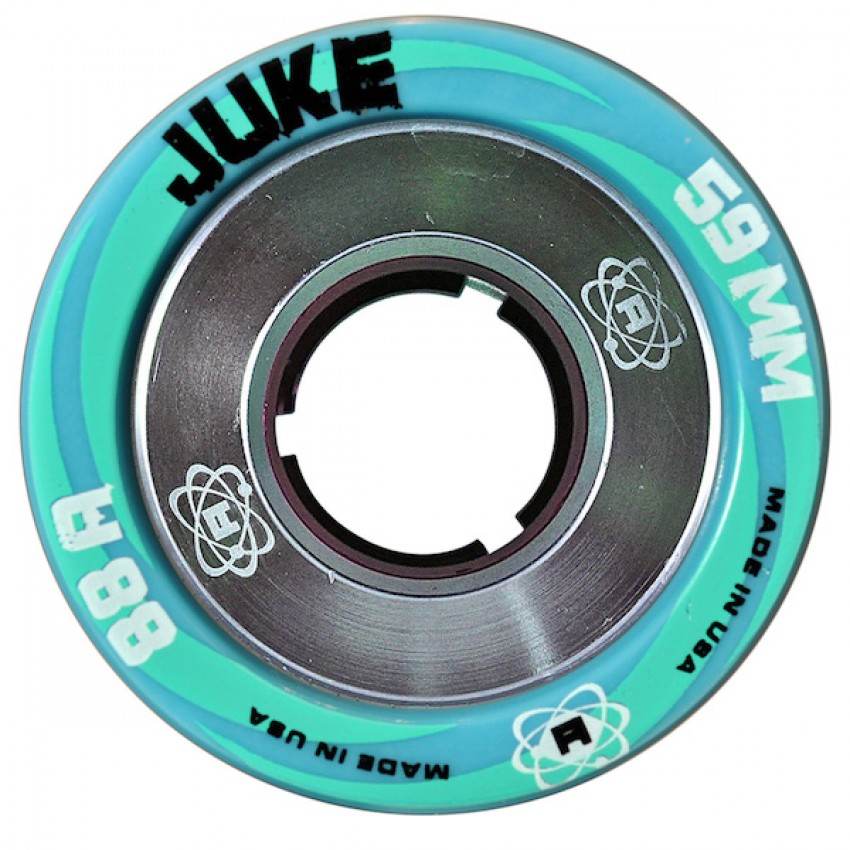 The Atom Juke Wheels are a top selling wheels and come in various hardnesses. Like we mentioned above, these wheels have been a favorite for many years! Every time we think they are the best wheels out there, Atom goes and makes them even better. Atom took the high-performance urethane of the original Juke wheels and 'tweaked' the chemistry with proprietary ingredients to meet the demands of today's modern skater! Get yours in either nylon or alloy hollow core today!
Mota TKO XXF Wheels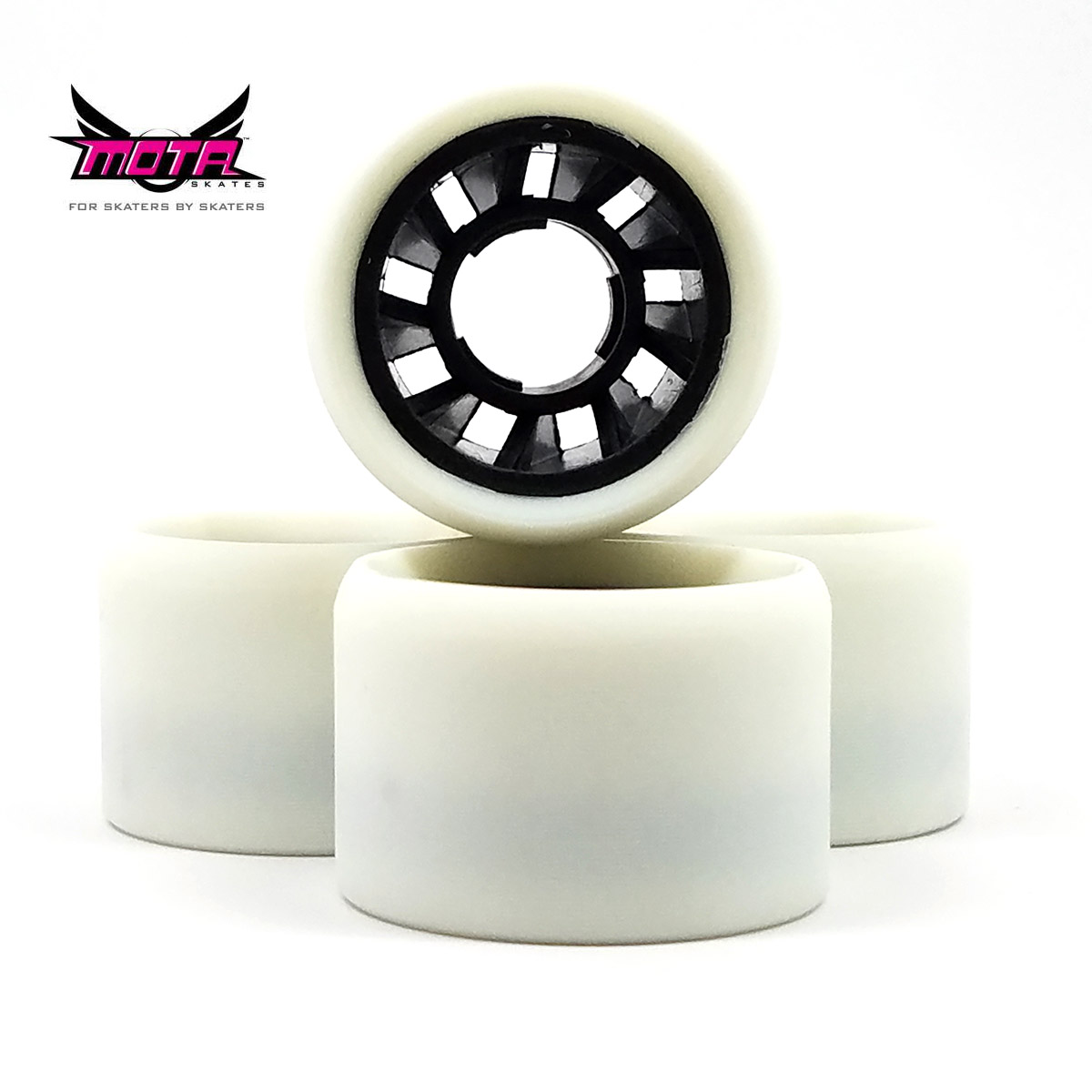 The Mota TKO XXF (extra extra firm) wheels were designed by skating champion and roller derby superstar Mota Matrix. This all new Mota TKO wheel is like nothing we have ever seen! Due to the design of the wheel itself, the traditional durameter rating does not apply. These wheels have a much larger hub than most, creating a light and very reactive wheel. The urethane surface of the wheel is 4mm in the center and 6.5mm on the edges allowing the wheel to roll like a harder wheel but grip like a softer one. The increased size of the hub creates a wheel with the rigidity of an alloy hub and the weight of a nylon hub. This allows for a level of stability and control that has never been available in a 59mm wheel. Combine that with the light weight and this wheel will be a game changer.
Best Wheels for Blockers
Blockers generally need wheels with a medium hardness so that the skater is able to get the right amount of grip and slide to stay in control of the teams wall formation, but every skater has different preferences. Don't be afraid to get other opinions and make a decision based on all of the information you can gather. There are many such wheels to choose from, but the ones listed below top the list in quality, durability, and technology.
Atom Savant 93A Wheels
The Atom Savant Wheels have been one of the hottest wheels since they came out and the 93A hardness is great for blockers. The new core design allows each wheel to weigh in at just 68 grams. The 5mm center urethane allows a fast roll, with a 7mm molded lip giving the grip you need in the turns. If your track surface is more slippery, go down in hardness and if you skate on a grippier surface, you'll want to up your hardness a bit. Whatever surface you're skating on, there's a Savant wheel for you!
Mota Toxic Roll Wheels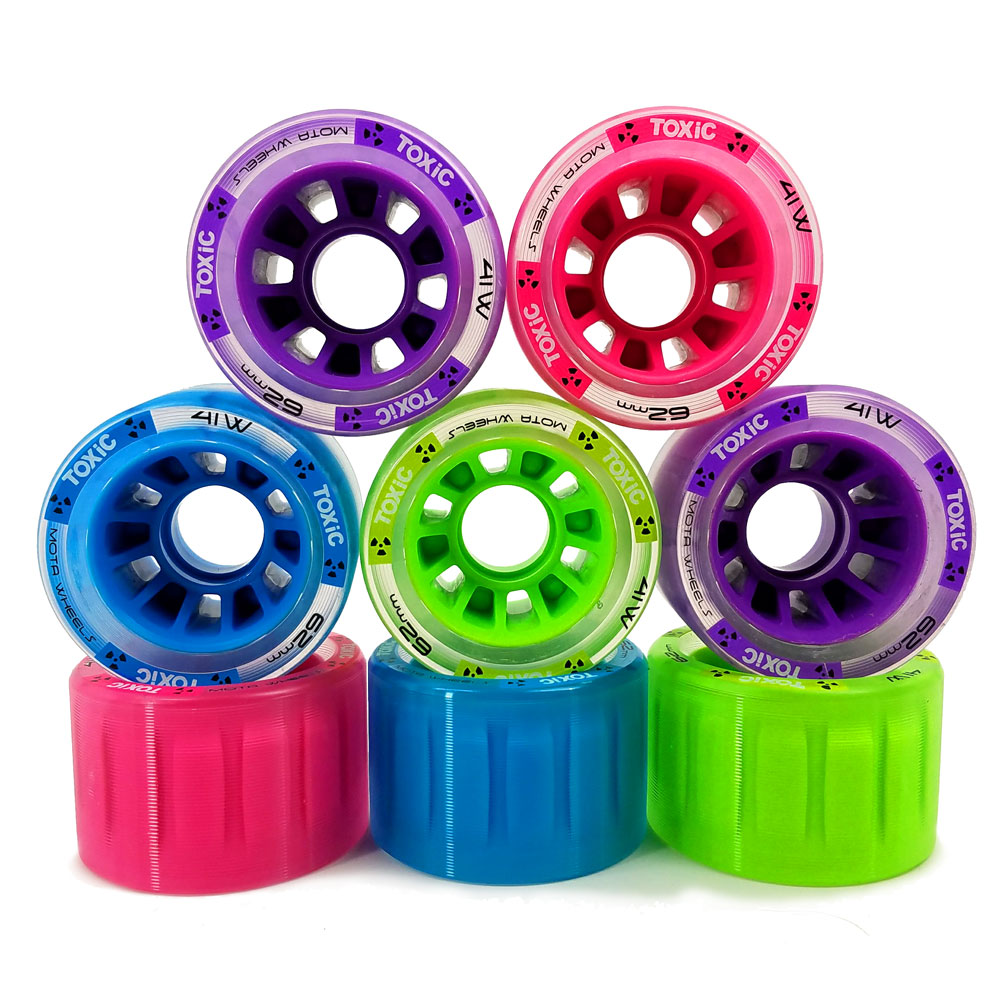 The Mota Toxic Roll Wheels were designed by Doug and Julie Glass to be a versatile wheel at an amazing price. If you are looking for a wheel that will allow you the speed you need while also giving you the bit of grip you crave. You will also love how light these wheels are! These wheels are available in two different sizes and a variety of vibrant colors including a mixed option that will really brighten up those skates you love.
Radar Halo Wheels
The Radar Halo Wheels are increasingly popular! Like we mentioned above, the Halo is a culmination of nearly 2 years worth of research and design. More than simply a larger core, the Halo hub is designed for optimal performance with excellent feel. The inner and outer rings of the Halo hub are oversized, which reduces the amount of urethane on the edges of the wheel which makes it easier to perform stops and offers excellent response. Grab this awesome wheel in a variety of hardnesses!
Most Versatile Derby Wheels
Versatility in wheels can be important, especially for new skaters. Softer, "hybrid" wheels with a wide base can help beginners with control. These wheels work on a variety of surfaces and serve a wide variety of skaters. They are a little slower around the track, but these are great for versatile performance.
Atom Poison Savant Hybrid Wheels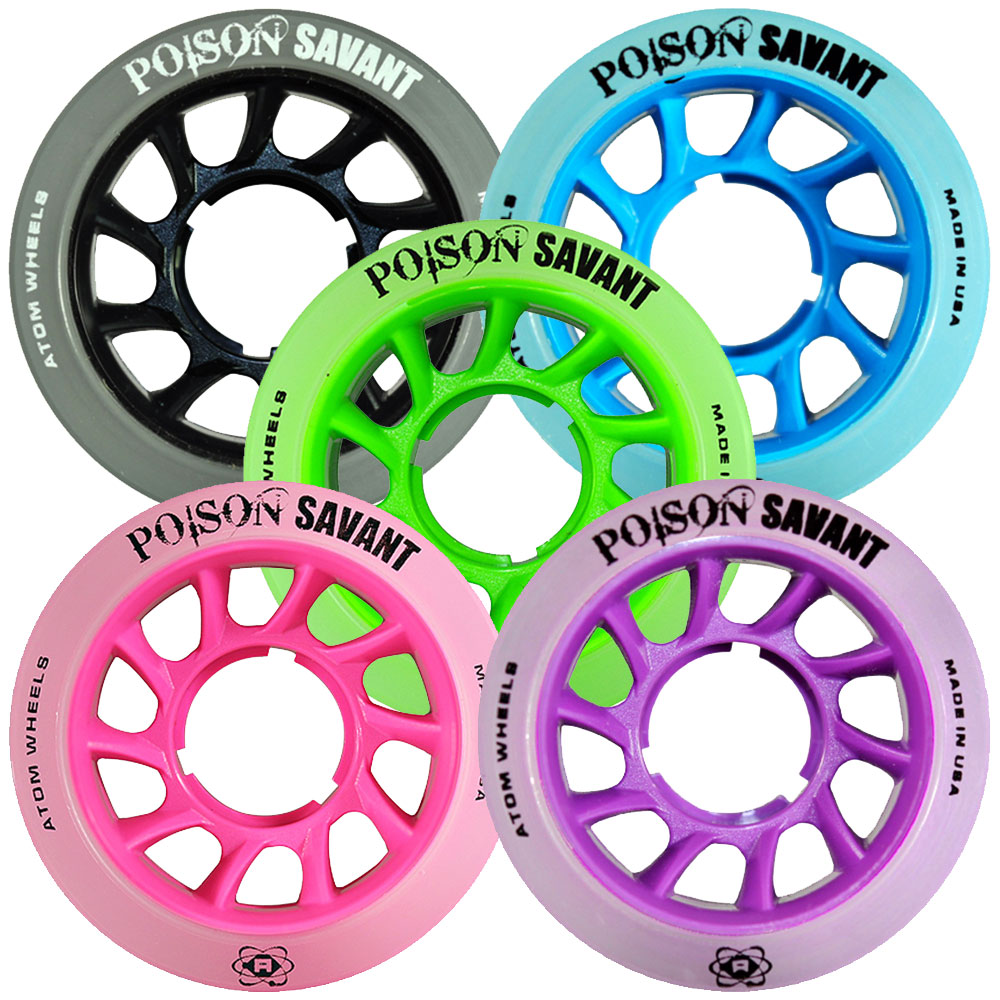 The Poison Savant Hybrid Wheels are a versatile wheel made specifically for derby players! These wheels come in five great colors and give skaters the choice to skate inside or outside getting a great roll and in many cases, a great grip. The Poison Wheel has been the most popular soft wheel for as long as we can remember and this version has all of the same awesomeness around an unbelievable light core. The Poison Savant Wheels will keep you from sliding in turns and you will get the same great roll as any hard wheel out there
Mota Toxic Grip Wheels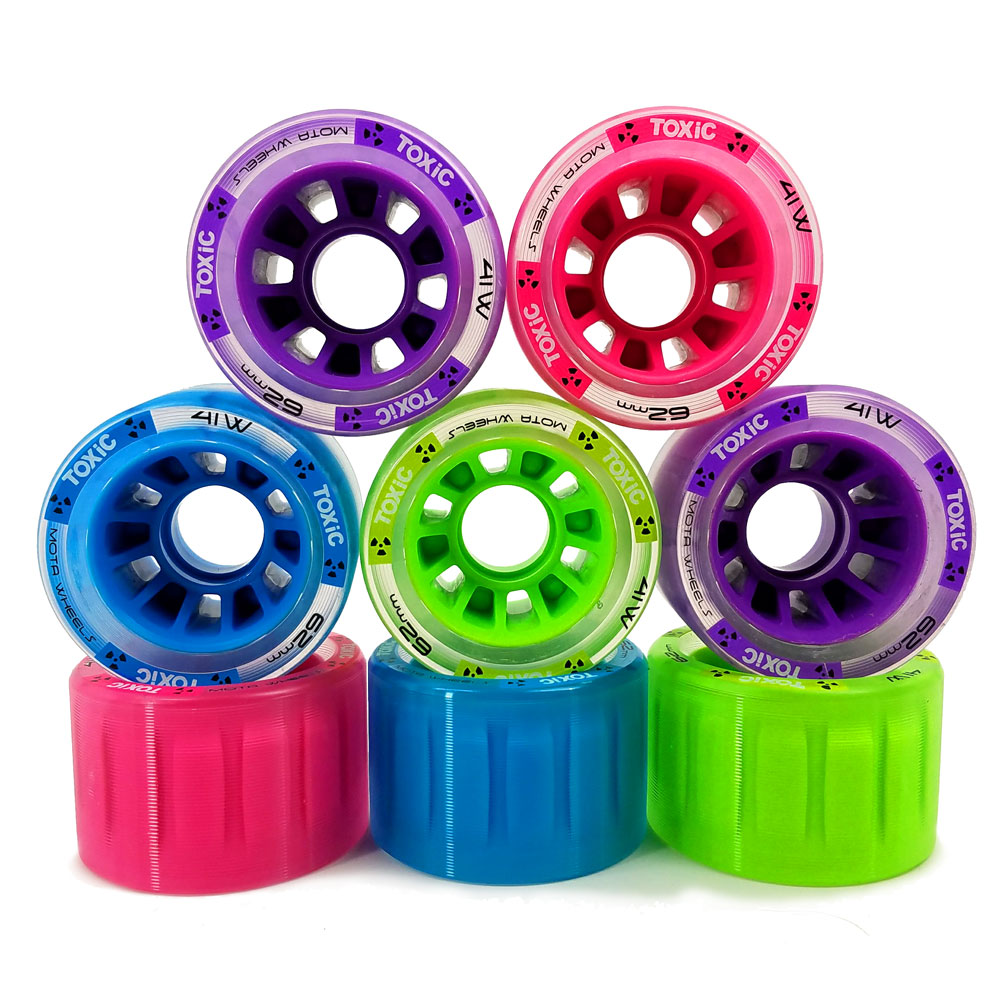 The Mota Toxic Grip Wheels are one of the best values on the market today! Mota Skates has released a hybrid wheel that performs for all levels of derby at an affordable price. There are several key differences in the design of the Mota Hybrid wheels that make it more comfortable and easier to control. After thoroughly evaluating the derby wheel market, Mota decided there was a need for quality wheels that perform on multiple surfaces. This wheel has a large core to reduce weight. It rivals the speeds of all other hybrids wheels. The 62mm is wider than the 38mm wheels, which means it has a larger footprint and increased stability. However, it is less than the standard 44mm wide wheels, which means it is better for agility, foot work, and all-around performance.
Honorable Mentions
There were so many great wheels this year, we just have to mention a couple more that didn't make it into the other sections! Check out these other awesome wheels below.
Atom Boom Wheels
The Atom Boom Wheels have been extremely reliable since they were released! The new wheel technology sets these wheels apart from the rest. The exclusive 'Power Lip' technology makes the Boom wheel an all-in-one wheel giving the skater power, speed, grip, agility, and so much more. This innovative formula guarantees maximum grip on multiple surfaces and is a favorite for Banked Track Fresh Meat. Atom's Boom wheel is the newest universal wheel, giving desired results on every surface.
Bones Day of the Dead Wheels
The Bones Day of the Dead Wheels are some of the best wheels on the market and are extremely popular. These wheels have been a consistent best-seller for years and the technology behind the wheel is why we like it so much. This wheel is available in five different hardnesses ranging from 86A to 96A. This wheel is made of a softer urethane and a hard core to give the skater both grip and roll. And seriously, who wouldn't want these awesome designs on their amazing wheels?
Surface is a Factor when Choosing Wheels
One of the biggest factors for choosing a wheel is the surface you skate on. Skaters that skate on a hard and slippery surface choose softer wheels, while skaters that skate on grippier, or softer, surfaces choose harder wheels. The more slip on a surface, the softer the wheel needs to be in order to maintain traction. The opposite is true for rougher surfaces. For "grippier" surfaces, a skater will choose a harder wheel, unless they're outdoors. There is one standout pro and con for both hard and soft wheels. The pro for a soft wheel is that you will get maximum grip on the most slippery of surfaces. The trade-off being that the speed of the roll in that wheel decreases because of its compression. For harder wheels, it is basically the opposite. Harder wheels sacrifice grip, but in exchange you get a faster roll. A decade ago, all wheels were fairly hard because most skating was done on wooden rinks. Today, however, companies such as Atom, Mota, and Radar have improved wheel technology significantly. It is these and the other brands you see here that are at the top of the leaderboard when it comes to producing wheels that, believe it or not, both roll fast and also offer significant grip.
Body Weight is a Factor when Choosing Wheels
One other factor that people often do not take into account is the skater's weight. Yes, your weight does effect what type of wheel you should choose, and it effects how it rolls and grips on the track. It makes sense if you think about it. There isn't a known optimal weight for any particular wheel, but you might try a few different hardnesses to find which is right for you. Just because someone else on your team likes a particular durometer (hardness rating) or wheel, doesn't mean that wheel will fit you — especially if there is a significant weight difference.
Generally, the more a skater weighs, the harder wheel they want. This is because a heavy weight causes the wheel to compress and stick to the track. Lighter skaters may choose to skate on softer wheels because the softer wheels take less weight to compress. This gives lighter skaters the right amount of grip they need on the track. These principles aside, skaters often have differing preferences as to what they like in a wheel, and many don't take weight into account at all. However, it's something you might want to consider.
Wheel Performance Matrix
You don't have to take our word for it. You can do your own homework on wheels and try to prove us wrong! The easiest way to do some of your own research is to use these awesome wheel performance matrices that our vendors have provided! Can't read all the details in these awesome charts? Don't worry, we can't either, just click on them to open a larger (and zoomable) version!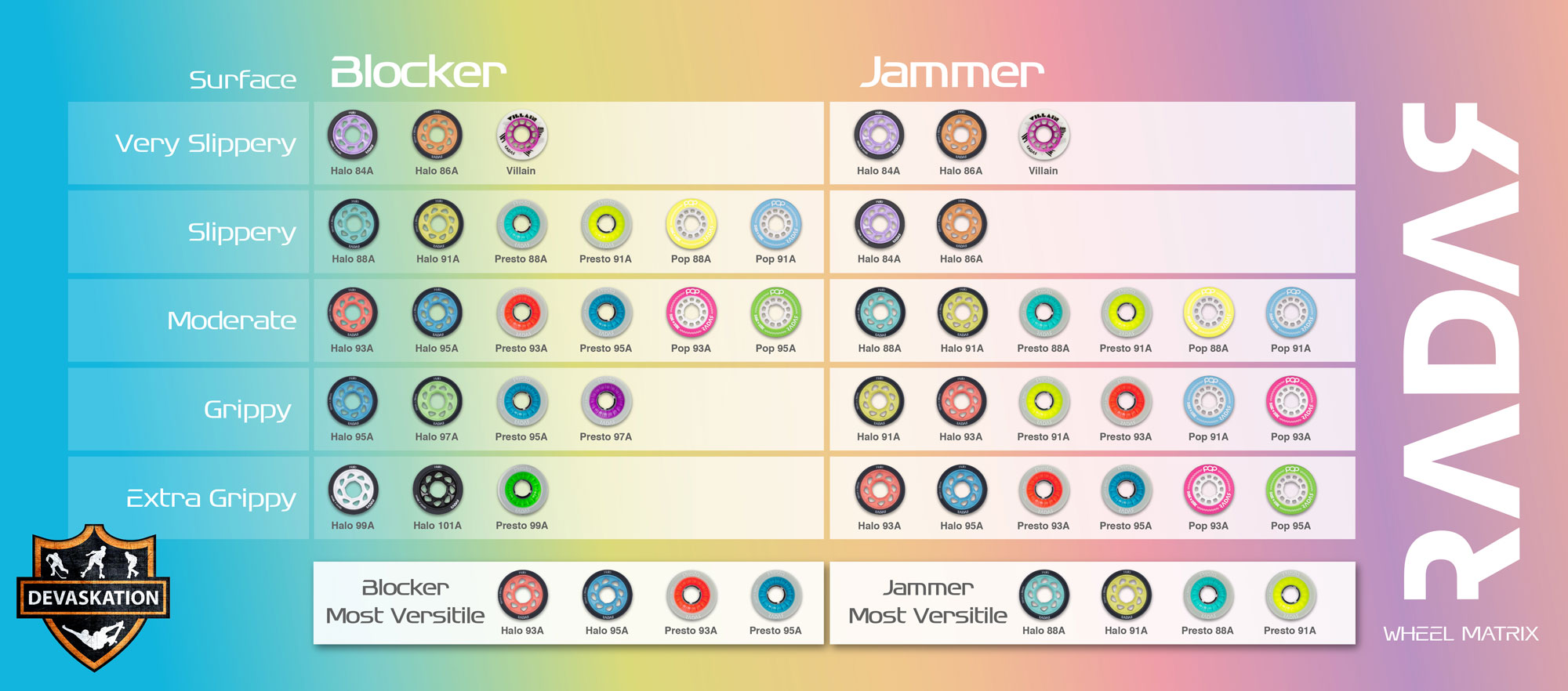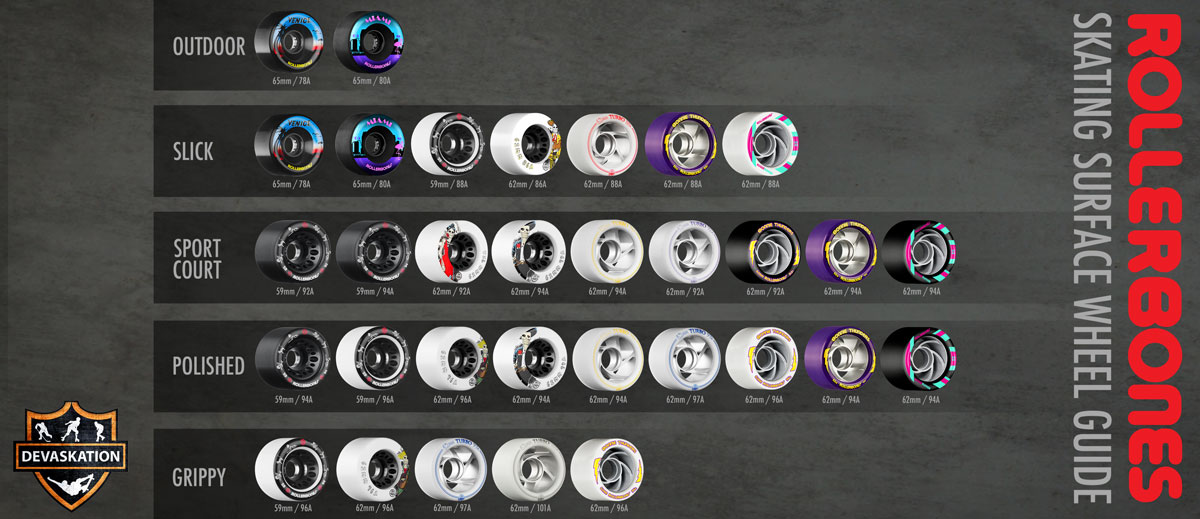 Consider Using a Custom Wheel Configuration
We've talked about wheel configurations with our customers extensively, find one that works for you! If you have a wheel configuration that isn't here that you totally love, please share it with us so we can add it.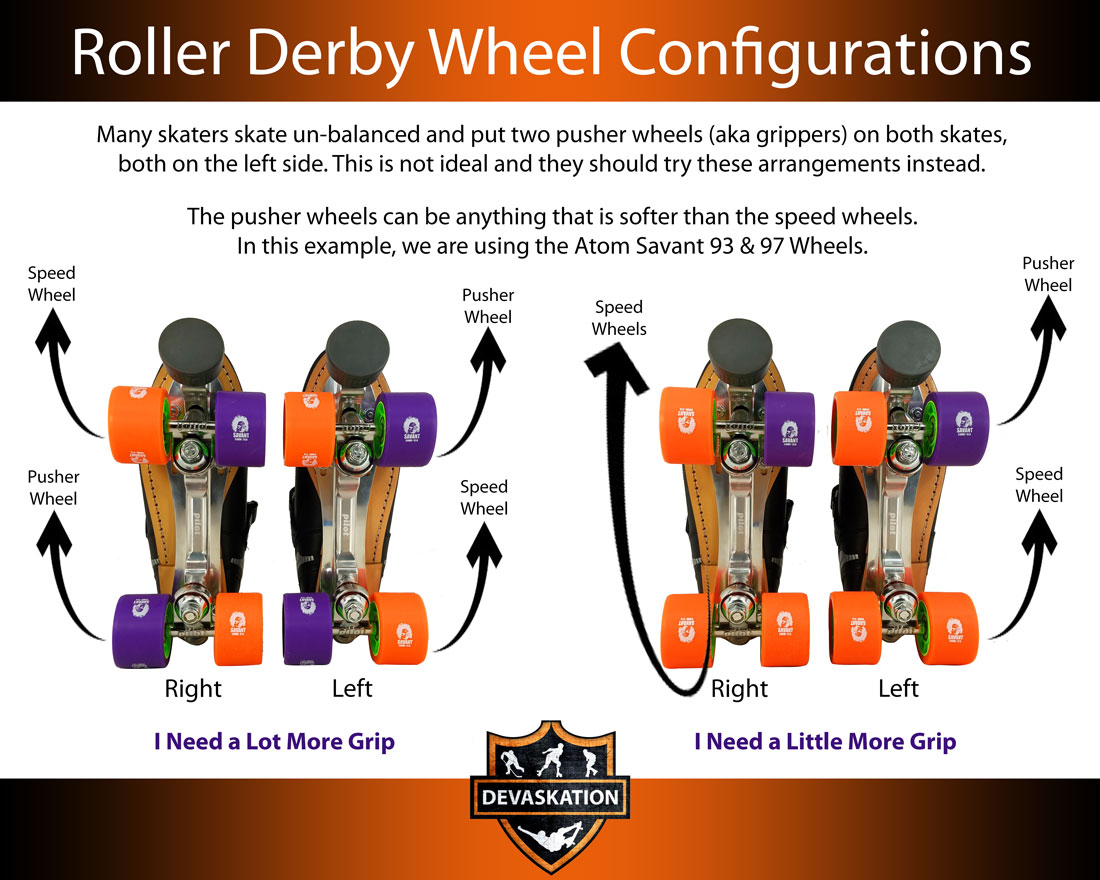 Current Derby Player Examples: (Work in Progress)
Currently Accepting Submissions!
Do you currently compete in roller derby? Are you interested in sharing your stats with us to help others? We are looking to share the stats of 6 current players on this page. To qualify, you must be an active derby player with at least 2 years experience in derby play. We will require your approximate height, weight, body type, typical floor surface, player position, and a brief description of your equipment (with an emphasis on wheels because that's the current topic). We would very much appreciate a picture of your skates and YOU! We want to make this fun so you can give a shout-out to your team (or anyone else) for a little promotion. The best entries with the most detailed information and pictures will have the best chance to get featured.
Please send your stats/information with detailed images to sales*at*devaskation.com. Any information you submit will obviously be public and any images you submit will be ours to use so make sure you have rights to the images. It's probably best to have a friend take a picture of you in your skates and then take a few pics of your skates up close. We can edit the photos if you need something cropped out or touched up. We prefer .jpg photos, but we can work with just about anything reasonable. Keep in mind there is a limit to the size of the image you can send, so please keep images under 2-3MB each (that allows for a huge image). If we get enough entries, we might expand to 8-10 player examples.
Player Name:
T-Nasty #210
Redd Dahlia #173
Rocky Whore'r #717
Team Name:
Axles of Annihilation
El Paso Roller Derby
Brutal Beauties & Hot Shots for AZDD
Years in Derby:
7
7
2
Picture:
Height:
5′ 10″
5′ 1″
5′ 10″ on a good day
Weight:
185 lbs
150 lbs
155 lbs
Body Type:
Muscular/Thick
Average
Giraffe?
Awards:
Freshmeat MVP
Multiple MVPs
Rookie of the Year
Floor Type:
Sport Court/Concrete
Polished Concrete
Painted Masonite
Current Wheels:
94A RollerBones Turbos
Radar bullet 95 or Atom Juke 95
94A Rollerbones Turbos
Other Equipment:

Antik Boots
TSG Force IV Knee Pads

Antik Boots
Smith Scabs Protective Gear
Thanks for visiting and reading our Roller Derby Wheel Guide. When choosing wheels for roller derby, there are several factors to consider. If you're fresh meat, it's always important to get some recommendations from your friends and other derby players that have experienced different types of wheels. Don't be afraid to try a few! For those expert rollers out there, take our recommendations to heart. We have our finger on the pulse of the industry and the new products that are available. One of the wheels above will most likely work the best for you!
Devaskation.com was not paid or "sponsored" by any manufacturer to place one product above another. Though we have been contacted by manufacturers to adjust our opinions, placement on this page is not for sale! The information herein outlines our educated opinion on the best wheels for roller derby. If you see any mistakes or errors please contact us and let us know! Also, this page changes often and you might find it in transition from time to time. This is simply a symptom of a living document, but we are always working to keep it updated and pretty.