If you're just breaking into the awesome sport of roller derby, the language, ref signals, and scoring is a whole new world. We've put together a guide here to get you started! First, we have our rolling list of all the terms newbies might need help with. We're currently working on a glossary of ref signals to help you understand the amazing job they do for every bout so check back soon to check that out. The last section is all about scoring so you can keep up with this fast pasted sport without missing a beat. Enjoy! Know something we've missed? Shoot us an email and let us know so we can share it with the world! Don't forget to check back as we're always adding to our skating glossary.
Roller Derby Lingo
27 in 5 refers to skating 27 laps around the track in under five minutes, which is a Minimum Skill Requirement for Roller Derby participants.
9 Month Injury – Pregnancy.
AFTDA – Association of Flat Track Derby Announcers. AFTDA is an organization that ensures a code of conduct by roller derby announcers. They test roller derby knowledge and rules and issue certifications to qualified announcers. Certification includes complete knowledge of rules, hand signals, code of conduct and AFTDA handbook.
Alternate – Designated individual permitted to speak to a referee during a bout.
Blockers – Part of the pack, a positional player. There are four allowed per team in each jam.
Bout – The period of play, or entire game of Roller Derby. Each bout is composed of 60 minutes of play and divided into (2) 30 minute sessions or periods of play between two packs (teams). Banked Track Roller Derby is comprised of 4, 15 minute quarters.
Booty Block – Hitting an opponent using the hips or butt.
Getting a Goat (Grabbing a Goat) – A strategy in which an opposing blocker is knocked out of bounds, and when they reenter, all blockers surround the goat causing the other blockers to be out of play. When the goat gets close to their own players, they are hit out of bounds and the strategy repeats when they re-enter the track.
Goat – A player held behind a wall that effectively controls the speed of the pack.
Jam – 2 minute races between packs to sore points.
Jammer – Point scores for the pack. Each team is allowed one designated jammer per jam. Jammers are designated by stars on their helmet.
Man on Man (Woman on Woman) – As the jammer approaches, each blocker hits an opposing blocker to knock them out of bounds or make them fall.
No Pack – When blockers are spread out and not skating together in a group.
Power Jam – The opposing jammer is not present on the track (out of bounds, penalty box, etc) The team that has their jammer present is on a power jam, having the ability to score points without the opposing team also scoring points.
Sausage – A passive offensive strategy, blockers skate in a single file line on the outside of the track in order to force opposing blockers out of play.
Screening – Blockers position themselves between jammer and opposing blockers to keep opposing blockers away from jammer. Implement this strategy before opposing blockers can form walls and it's extremely effective!
Offical Review – Teams call official reviews in order to challenge a call, or to check the score on the board to ensure the correct score is on the board.
Offical Timeout – Refferee's call the timeout to discuss what is happening.
Team Timeout – Team calls timeout to discuss what is happening.
Grand Slam – Jammer Scores all 5 points available on the track.
Jumping the Apex – When a player leaves the ground in bounds, leaps over the infeild, and lands in bounds on the other side of the pack.
Roller Derby Ref Signals
Learning the Officials' Hand Signals is a must for skaters and will benefit spectators as well. A big thanks to the RDCL and Heyooooo Photos for these awesome photos and explanations!
Penalties

Above the Shoulders

Closed fist against the side of the helmet.

Arms

Bend one arm up and touch that forearm with the opposite hand.

Back Blocking

Start with both arms bent with open palms facing forward near chest. Push hands outward from body.

Low Blocking

Open hand is brought across the chest to touch the opposite shoulder.

Stopping

Use an open hand with fingers together, facing outward with a bent arm.

Directional Blocking

Use an open hand with fingers together facing outward with a bent elbow, then rotate the arm 90° counter clockwise at the elbow (like a windshield wiper).

Multi-Player Blocking

Clasp both hands together and hold across chest.

Blocking and Assisting out of Bounds

Start with both hands parallel, open palms with closed fingers, start above the shoulder and finish by the hips on the opposite side of the body.
Roller Derby Scoring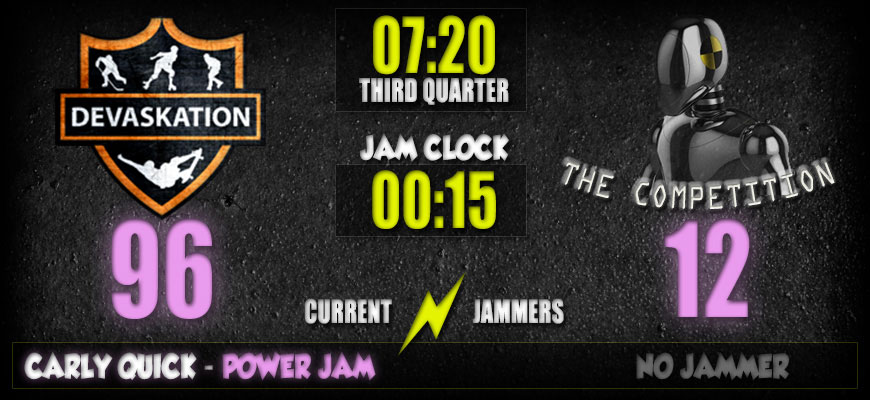 Roller derby is a basic scoring game and whoever in the end of the game has the most points wins. In the sport of roller derby every skater on the track is a point. For every jam of the game (which for flat track last two minutes and for banked track one minute) each team fields four blockers ("the pack"), one of which is a "pivot," indicated by a helmet pantie with a stripe on it. Each team also fields a jammer, indicated with a pantie with a star on it. The jammer is the only person that can score for each team, they do this by going through the pack and passing everyone on the opposing teams hips to score their point. In order to start scoring the Jammer has to successfully skate through the pack once after the whistle to gain scoring ability, then every time after that, that they get through the pack they can score up to four points. If the opposing jammer is still stuck in the pack or goes to the penalty box the jammer can score five points in one pass. Whichever team has the most points after regulation time wins.
We need your Help!!  We want to make this page as awesome as possible.  Send us your derby terms, ref signals, and scoring info and we'll add them to this page!  We will confirm the information is actually valid though (darn tricksters!)