Determining your skate size isn't that difficult if you're diligent with measuring your feet. Skate sizes aren't necessarily that same as your shoe size, unfortunately. It is annoying, but the boot manufacturers don't use a standardized sizing chart or anything, so every brand is a little different. Some brands fit like sneakers, but most don't. So, you need to be willing to measure your feet to make sure you're ordering the right size skate!
Download This Sizing Template
A lot of our customers have asked us about the best way to measure their feet to get the most accurate measurement. We have made the awesome video below to guide you in making your measurements as well as a printable sheet you can use to do the measuring. **Note: You must print the guide as actual size for it to be accurate.
Watch this Video on Skate Sizes
Please find the correct Size Chart for the Brand of skates you are looking for and follow those sizes for the best fit of that brand of skate. If you have any questions about your size please let our experienced staff help you with finding your size.
Atom/Jackson Boot Size Charts:
Note: It is generally recommended that high-performance skaters go for a more snug (tighter) fit. Remember that leather boots will stretch and form to your foot over time, microfiber boots will hold true to size. For example, if your measurements are between a size 8 and 8.5, it would generally be recommended you go down to the size 8 in leather and give it some time to stretch for a better more secure fit in the long run. NOTE: Toes should never be curled.
Quad Boots
All Models – Q6, Q4, F1, Competitor, Elite, Vantage, Supreme
Women's High Top Boots:
All Models – Vista, Mystique, Finesse, Diva, EVO
Jackson Men's High Top Quad Boot Size Chart:
All Models – Mystique, Finesse
Rave Quad Boot Size Chart:
All Models: Rave
Atom Pro Inline Boot Size Chart:
All Models: Atom Pro
Atom Pro Fitness Inline Boot Size Chart:
All Models: Atom Pro Fitness
Kid's Adjustable Mini-Challenge Boot Size Chart:
All Models: Mini Challenge
Luigino Size Charts:
All Models Luigino Inline Boot Size Chart
Riedell Size Charts:
Riedell has put together some useful information on how to figure out the best size skate for you. Visit their website for instructions and a video.
R3 Sizing Chart
All Low-Cut Boots (R3, Solaris, Blue Streak, Model XXX) & Moxi and Antik Boots
Riedell Sizing Low Cut Boots (R3s, etc)
Download the Riedell Skates Owner's Manual
All Riedell High-Top Boots
FR Size Size Charts:
All FR Skate Models
FR Skates sizing charts for all models.
Mota Size Charts:
All Mota Quad Boots
TKO Size Charts:
Inline Boots
Download TKO Racing Size Chart PDF
Sure-Grip Skates Size Charts:
All Sure-Grip Skates
Download Sure-Grip Size Chart PDF
Tour Hockey Skates Size Charts: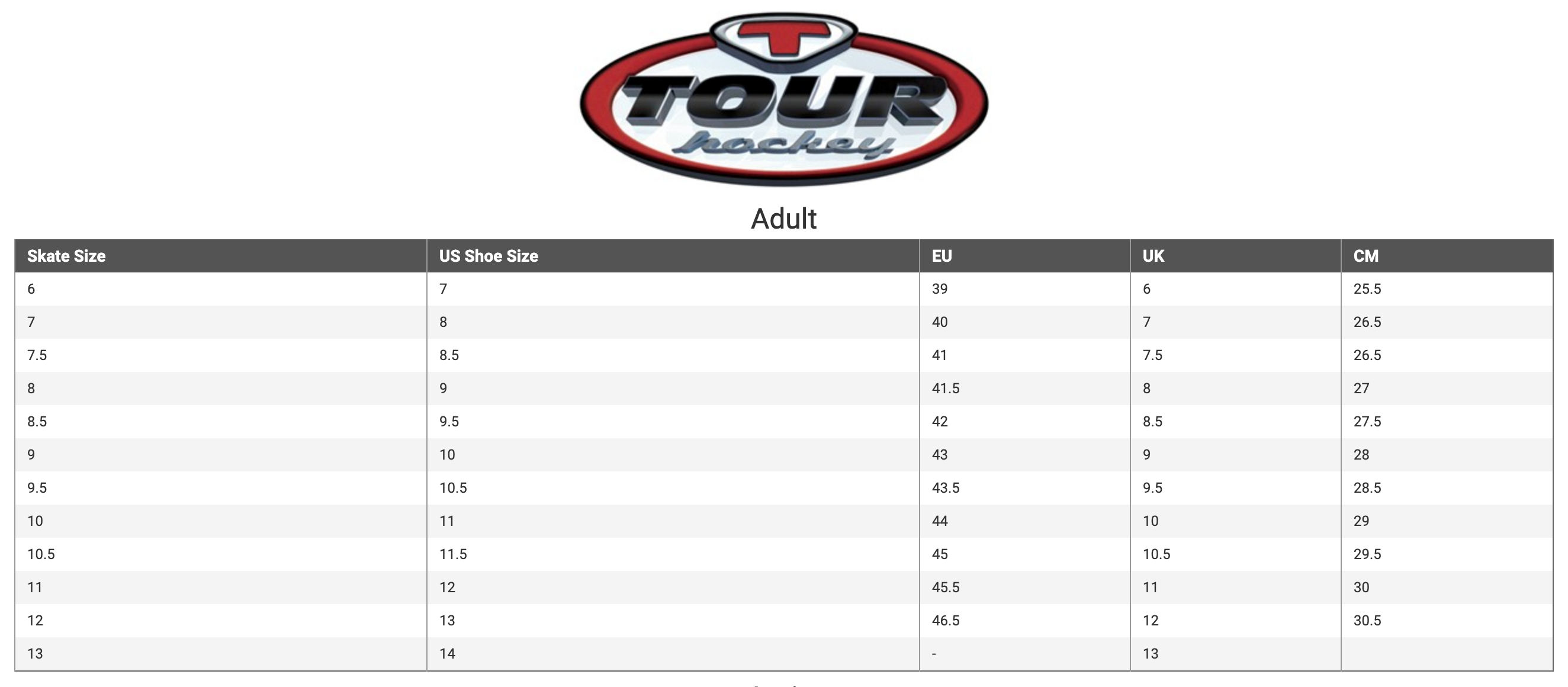 Chicago Skates Size Charts:
All Chicago Skates Models
Epic Skates Size Charts:
Epic Nitro Skates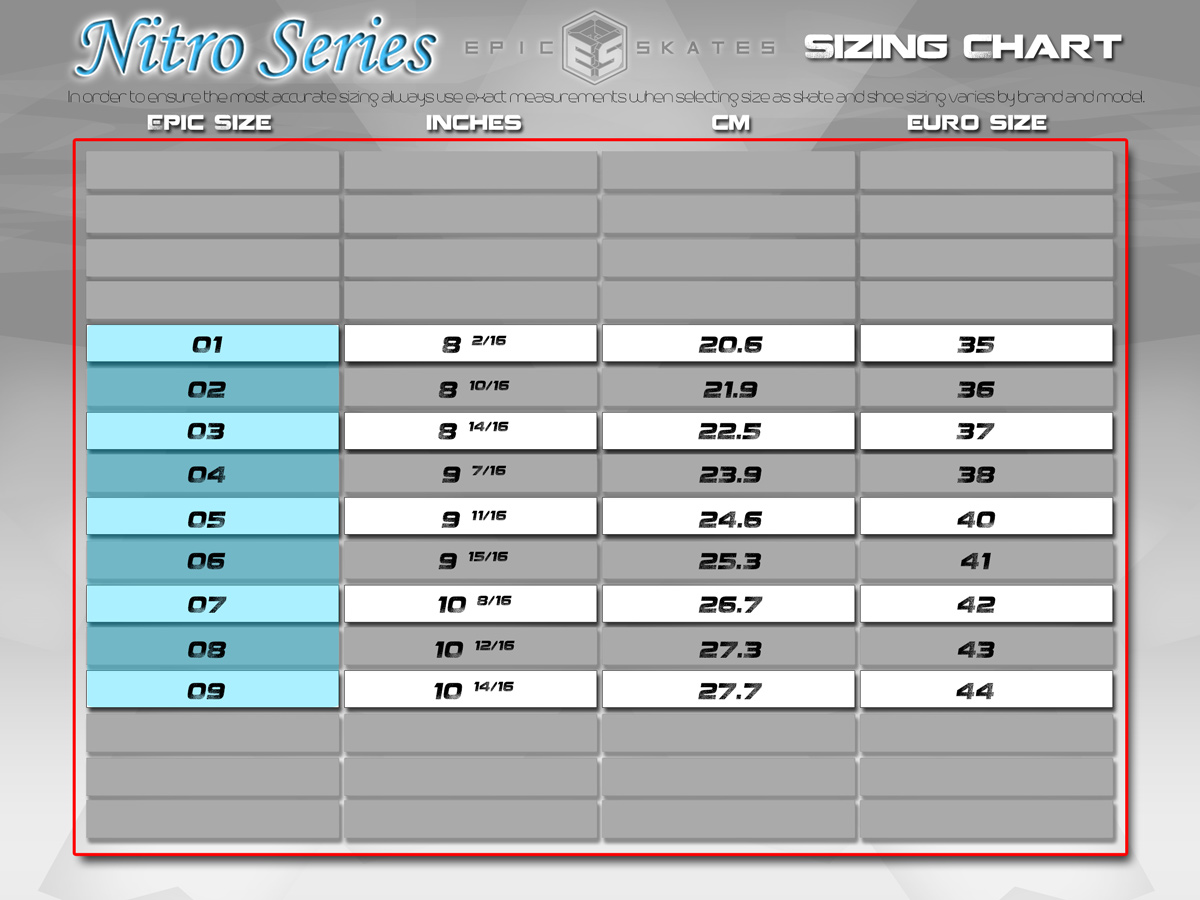 <!–
Roller Derby Size Charts:
Roller Derby Size Charts
Quad Boots
–>
Crazy Skates: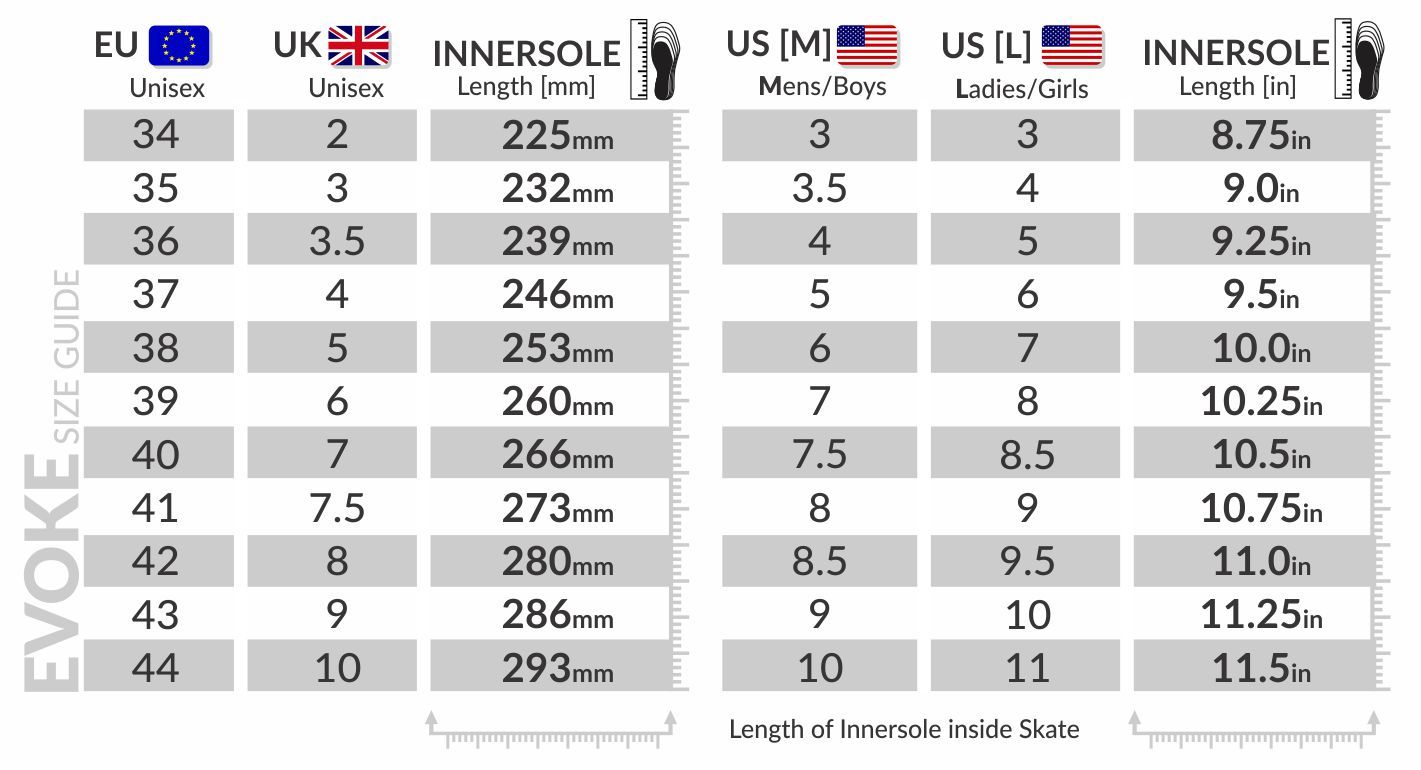 Lacing Techniques
If the length of your skates are great and you're still feeling some pain in a particular place, check out the lacing techniques below to help your skates feel like they should.