Outdoor roller skates differ from indoor skates mainly due to the wheels. If you intend to skate outdoors, it is ideal to have softer, taller wheels. Most outdoor roller skaters prefer an inline skate, commonly known as a 'rollerblade'. Quad skates, or 'roller skates', can be used outdoors with the proper setup, but "off the shelf" models don't withstand the outdoors as well as inline skates due to the bigger footprint or surface area, as well as their wider, harder wheels. Inline skates were designed to withstand various outdoor terrains due to their softer wheels gripping rougher landscapes. Inline skates also allow for more speed, and allow outdoor skaters to go faster. Outdoor skaters are subjected to varying terrains, and an outdoor skaters' goal is usually to maximize speed, while eliminating the impact of the challenges associated with harsher outdoor environments.
No matter whether you are skating on pavement or dirt, as an outdoor skater, inline skates are recommended to deal with the different surfaces you might encounter. However, many skaters aren't interested in learning how to skate on inlines and want to use quad skates. In this case, most quad skates will work outdoors, but you will definitely need to find a set of outdoor wheels.
Outdoor skates are available with both low top and high top boots — this is true for both inline and quad skates. Low cut boots allow for easier maneuverability and tight turns and are generally offered in "speed" skates. So if you want to go fast, look for a low cut boot. High top boots offer more ankle support and protection and are intended for those skaters on more "rugged" terrain. In general, outdoor skates get dirty and need to be rugged because of the terrain. Look for a boot that is easy to clean.
Outdoor Skates and Wheels
Quads vs. Inline Skates for Outdoor Skating
Quads or roller skates, are the preference of many indoor skaters: dance skaters, roller disco skaters, and Roller Derby skaters. Quads have a large footprint or surface area, making skating outside more difficult, but possible with the right equipment. Although ideal for most indoor skaters, one small piece of debris can make for a huge obstacle on quads, whereas inline skates are made to withstand the outdoors. Outdoor quad skates feature the classic quad roller skate design, with two wheels in front and two wheels in the back. Inline skates normally have 3-5 wheels in a straight line. There is no 'hard' rule to selecting your outdoor skates. Some outdoor skaters prefer quad skates, however, quads are mainly used by and recommended for intermediate to advanced skaters. Quads are used by outdoor skaters that see a benefit in the larger footprint to travel through different types of outdoor surfaces with more stability and less speed, and it is a top choice for recreational skating of any kind. Gaining and maintaining high speed is quite more challenging on quads when compared to inline skates, but as with any skate, comfortability and personal preference is of the utmost importance.
Safety First – Outdoor Protection Is Important
If you're going to skate outside, especially if you're going to be skating on concrete or other rough/hard surfaces, it is especially important you get some protection for your knees, elbows, wrists, and head. We aren't saying you should go out skating looking like RoboCop or the Michelin Man, but some protection is advised…and if that's really the look you're going for, we do sell some awesome PhreakTape to help you keep it together. At the very least, you want knee and wrist protection because these areas are the most likely to get scraped up if you fall (and we all will eventually fall). There are many types of pads and helmets on the market, and we have a few of our favorites below. Don't go cheap on your protective gear, you wan't something that is high-quality and durable because it's important that the gear holds up in the event of a fall. The most important thing when choosing any pads or helmets is to get the right fit. If your gear doesn't stay where it's supposed to, it can't protect you. Want it all? Build Your Own Safety Package!
187 Killer Knee Pads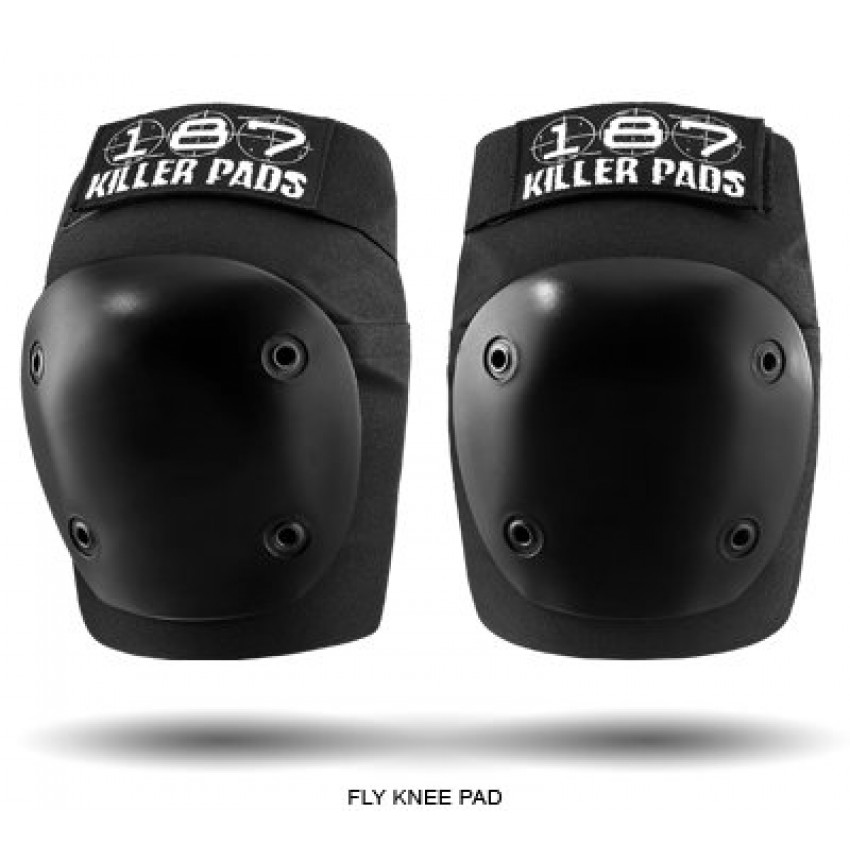 The 187 Killer Knee Pads have improved protection and function. The Knee Caps are held on with rivets providing improved durability. 187 Killer pads have the perfect hard cap and padding combination. Check out all of our great knee pads here!
187 Killer Elbow Pads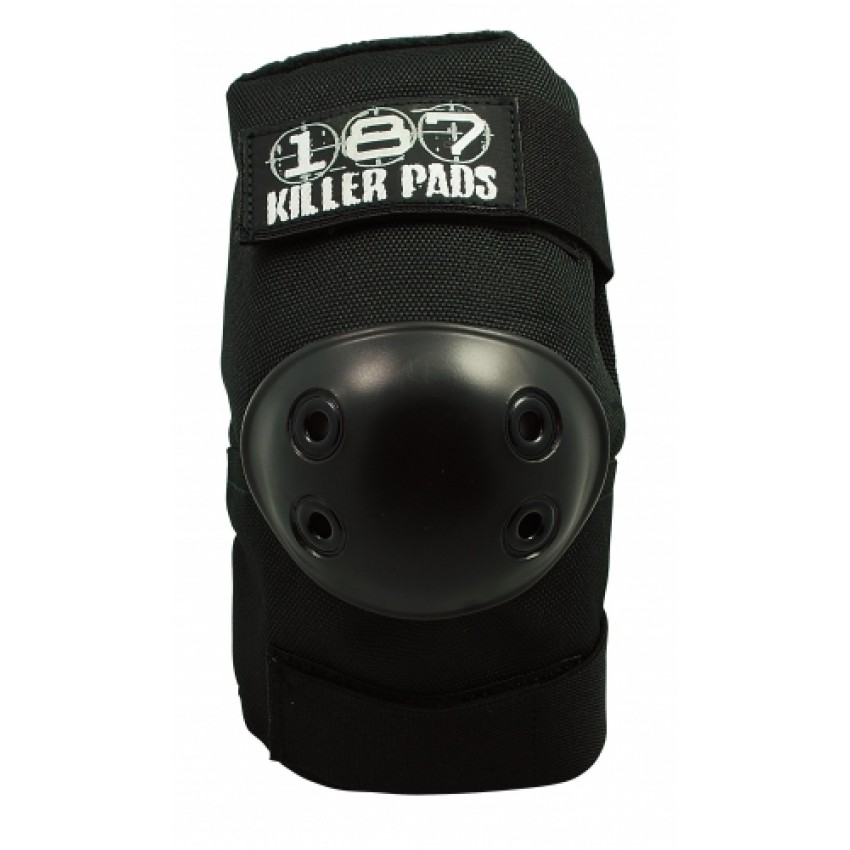 The 187 Killer Elbow Pads are perfect for protecting your elbows! These pads are tough to protect everything from you, to the person next to you, to the skating surface. Heavy-duty, perforated neoprene wraps the protected area, providing maximum mobility, comfort and security. You can see our whole selection of elbow pads here
.
Atom Elite Palm Guards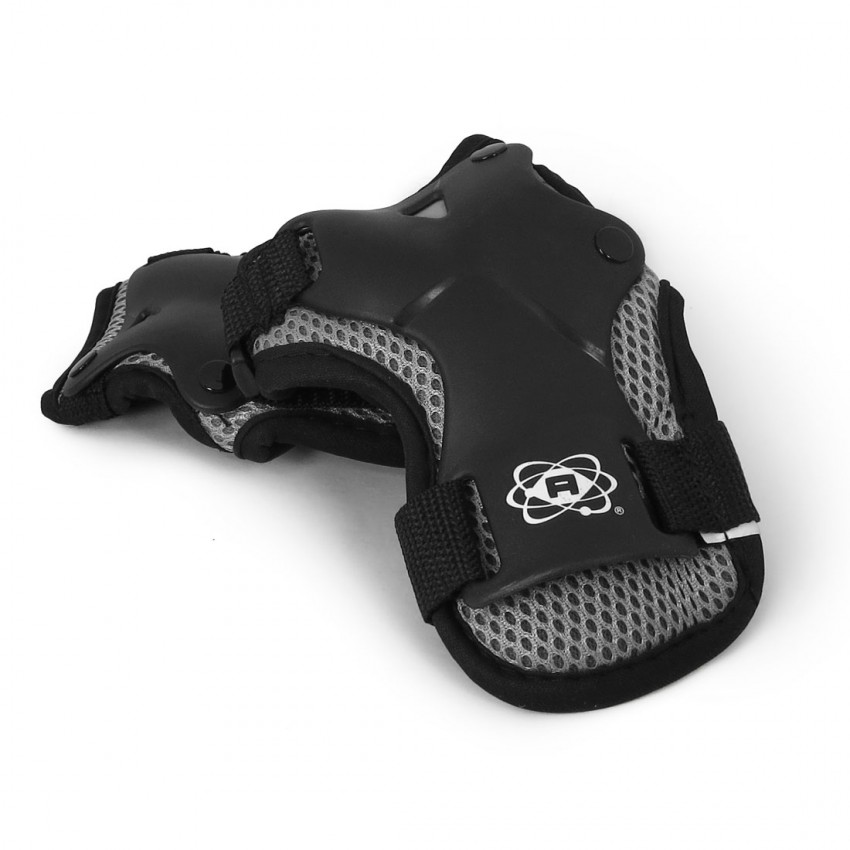 The Atom Elite Palm Guards are perfect for protecting your palms! Made with High-density foam to absorb impact, Atom's protection gear is designed to keep you safe. Adjustable Velcro straps create a custom fit and provide maximum comfort.
187 Wrist Guards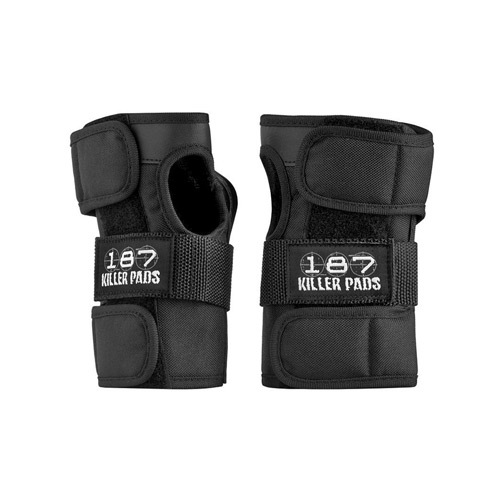 Some skaters prefer more coverage and protection for their wrists. If this is your cup of tea, check out the 187 Wrist Guards. These wrist guards are a great solution for wrist protection and is designed to reduce the possibilities of injuries relation to skating and other sports. No matter your preference, we have the wrist guards for you!
Triple 8 Dual Certified Sweatsaver Helmet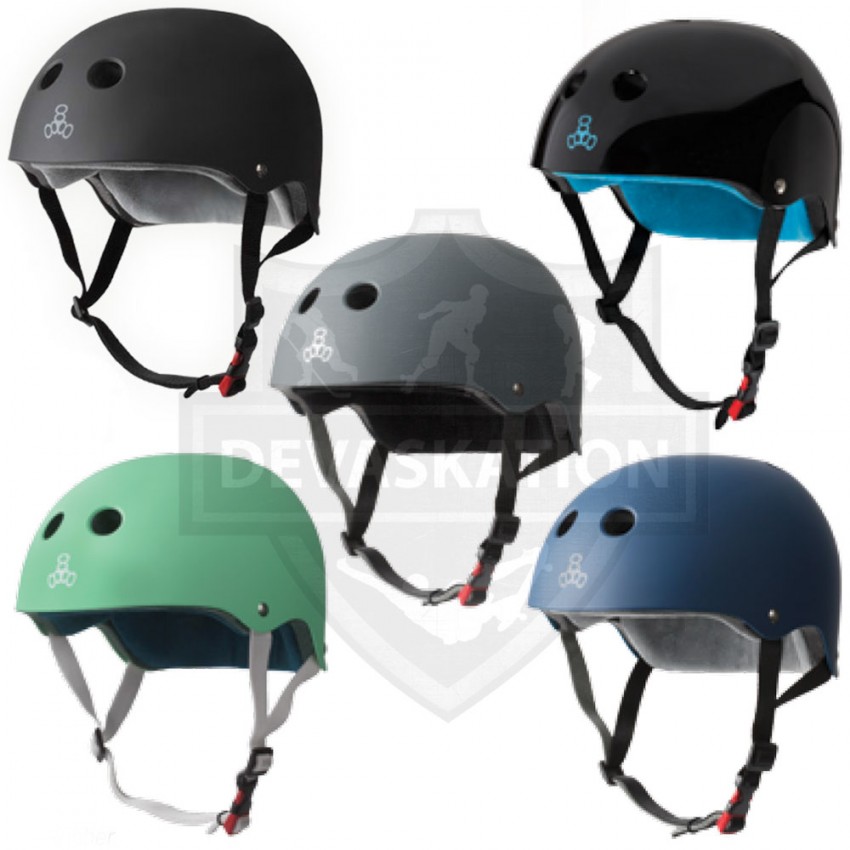 Just when you thought the Triple 8 Dual Certified Helmet couldn't get any better, they have now made it available in their amazing Sweatsaver option! The Triple 8 Dual Certified Sweatsaver Helmet is newly designed to help ensure the safety of skaters worldwide. This helmet is designed to fit various sizes and shapes of heads but also has two adjustable inserts to protect your skull with the perfect fit. See all of our awesome helmets here.
Wheel Measurement Specifications
The measurements of skate wheels are specified by diameter and durometer. The diameter is basically going to be the height of the wheel. The diameter of inline wheels usually range between 68mm and 110mm while quad skate wheels range from 58mm to 65mm. The durometer scale measures the softness or hardness of a wheel. The durometer is measured using a scale that typically ranges from approximately 74 (softest) to 106 (hardest) and is usually labeled with the letter "A". Durometer is normally seen as the second measurement listed on a skate wheel, with both millimeter measurement and durometer, or hardness, of the wheel. For example, a skate with the label "76mm/78A" shows the diameter, in millimeters, first – in this case, the diameter is 76 millimeters. The second number displays the hardness – in this case, the hardness level is 78. In general, outdoor skate wheels are usually within the 74A to 84A range on the durometer scale. For comparison, indoor skates are, on average, in the 84A to 106A range.
P.S. Remember that good bearings matter when you're skating outside (or inside). If you're skating outdoors, ceramic bearings should last a little bit longer than a steel bearing and ceramics tend to do a little better with the dirt and grime from sidewalks and streets. Check out BankRoll Ceramics because they're a great value and perform really well outdoors.
Types of Skaters and Overall Wheel Preference
Different types of outdoor skaters prefer different types of wheels. Recreational outdoor skaters may prefer a medium-size, softer wheel. These wheels offer an improved grip with good control over speed and impact, as well as any vibrations they may incur. Speed skaters looking for inline wheels typically opt for a larger, semi-harder wheel due to the increased roll. Since this type of skating is usually in a controlled indoor surface such as a rink, the need for grip and terrain control is not as important as the speed a harder wheel provides. Aggressive skaters notoriously prefer small wheels, due to the increased maneuverability they need in order to maneuver quickly.
DevaSkation offers both quad and inline wheels to suit your preference and best outdoor performance. You can check out a few of our favorite quad and inline skates and wheels below and get even more options and information in the following articles.
Inline Skate Recommendations for Outdoors
Inline outdoor skaters typically prefer tall wheel diameters. A skate wheel's diameter is equal to the height of the inline skate wheel, normally measured in millimeters. The taller the diameter of the wheel, the more quickly a skater will roll. An inline skater using a shorter wheel, compared to an inline skater with a taller wheel, will roll more slowly under the same conditions (when the skaters' wheel, skate, and skater are the same). One thing to keep in mind as an inline skater when choosing wheels is that smaller, shorter wheels require less effort when taking off. However, once the skate is in motion, the larger, taller wheels move with more speed. Inline skates for outdoors are recommended for most skaters and we carry several top brands of inline skates including Rollerblade, TKO (Mota), Atom, and SEBA. We also carry other brands like Luigino that are extremely high-end and should only be considered by those skaters that are advanced and serious about speed.
Atom Pro Fitness 3-Wheel or 4-Wheel Inline Skates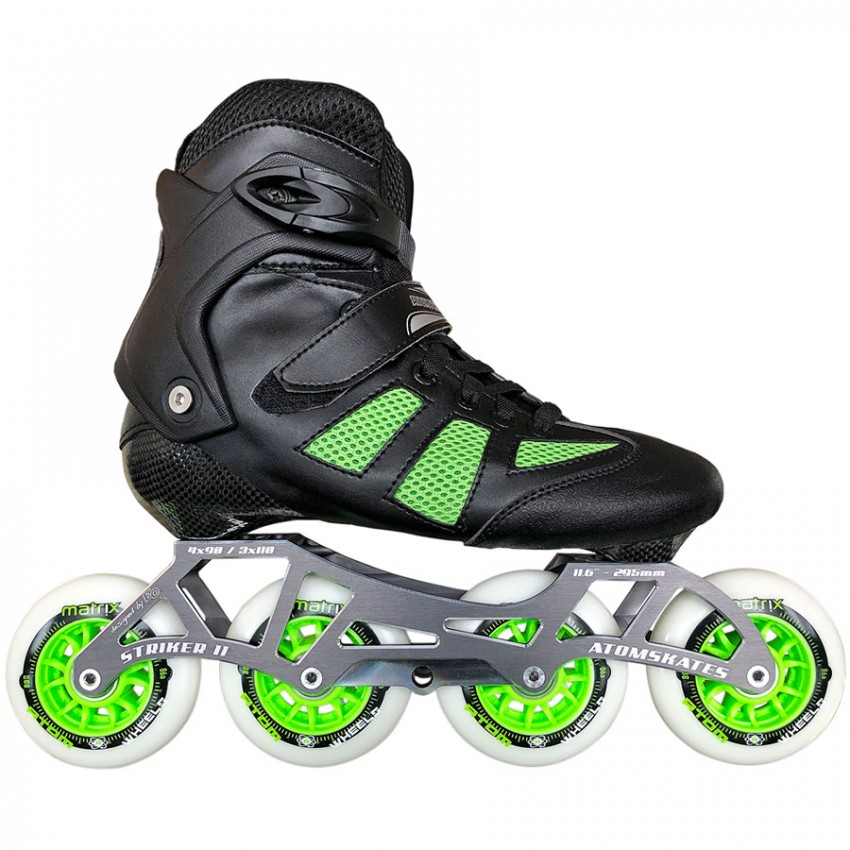 The Atom Pro Fitness 4-wheel are built for outdoor speed and can accommodate beginner or advanced skaters. Atom skates are made with some of the highest quality materials on the market today and Atom has a history of speed. The quality of the components is relatively unmatched in the inline skate world. This skate will work on any surface including urban sidewalks, rinks, recreational areas, or freestyle skating. This skate also comes as an Atom Pro 3-wheel setup.
Crazy Skates Airlite Inline Commuter/Fitness Skate
The Crazy Skates Airlite Inline Commuter/Fitness Skate is a value inline skate and can be used outdoors or indoors. It is good for beginner or intermediate inline skaters. Crazy skates are reliable, durable, and offer a solid value for skaters. You can use this skate on relatively any surface including urban sidewalks, rinks, recreational areas, or freestyle skating.
TKO Light Speed Inline Adjustable Skate (Juniors)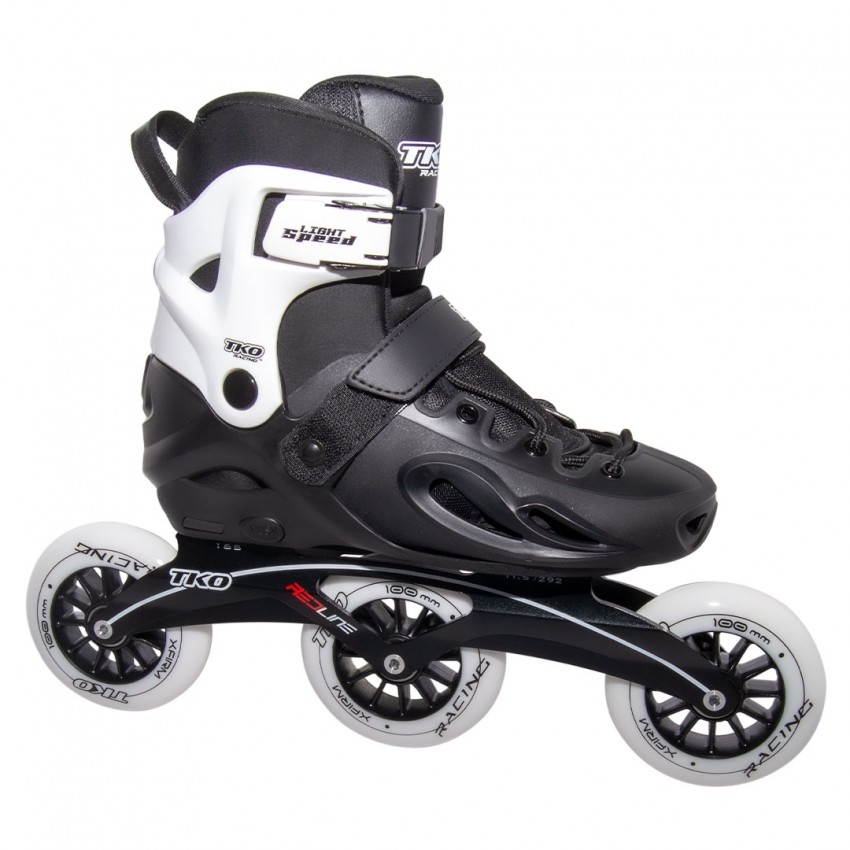 The TKO Adjustable Light Speed Skate is intended for juniors (teens) that are beginner to intermediate skaters. This adjustable skate is perfect for growing children who need a high quality inline skate. The small size skate adjusts from size Junior 13 to size 3. The medium size skate adjusts from size 4 to size 7. You'll be flying on these awesome indoor/outdoor speed skates! TKO is one of the best brands of inline skates on the market today and has an amazing pedigree from gold medal skaters.
Quad Skate Recommendations for Outdoors
We offer a few special outdoor quad skates in our Phreakskate line. The Phreakskates are a line of skates we have designed to offer ultimate performance at an affordable price including high quality boots and great wheels. The outdoor skates in this line are designed to handle the rigors of outdoor skating and are a great choice for all junior and adult skaters.
Jackson Evo High Boot Outdoor Skate
The Jackson Evo High Boot Outdoor Skate is a stylish, metallic finished skate intended for indoor or outdoor use. The skate comes in either silver holographic or red/white/blue holographic colors. The Jackson Evo features a durable plate, Bionic Abec7 Bearings, and Atom Pulse wheels. For indoor use, swap the wheels to Sonar Zen or another (harder) wheel.
Phreakskate Devaskator
The Phreakskate Devaskator is a great value for a fantastic outdoor skate for kids and teens. This skate is comprised of quality components at an extreme value. The boot is a Jackson Vibe boot that is comfortable and durable and perfect for new or beginner skaters. We have worked extremely hard to bring you a solid value and the Phreakskate Devaskator is one of the best skates we've ever inventoried!
Custom Riedell R3 or Jackson Outdoor "Energy" Skate
The Custom Riedell R3 or Jackson "Energy" skate brings some of the most popular boots and wheel combinations that are perfect for outdoors. The combination of performance and value has made the R3 boot and Jackson boot some of the most popular skates around. Now, you can take this skate outdoors, too. Show of your style with multiple color options for laces, wheels, bearings, and boots. The skate is custom, but you can't make a mistake. All of the components work together to make a seriously awesome outdoor quad skate.
Jackson Vista High Boot Outdoor Skate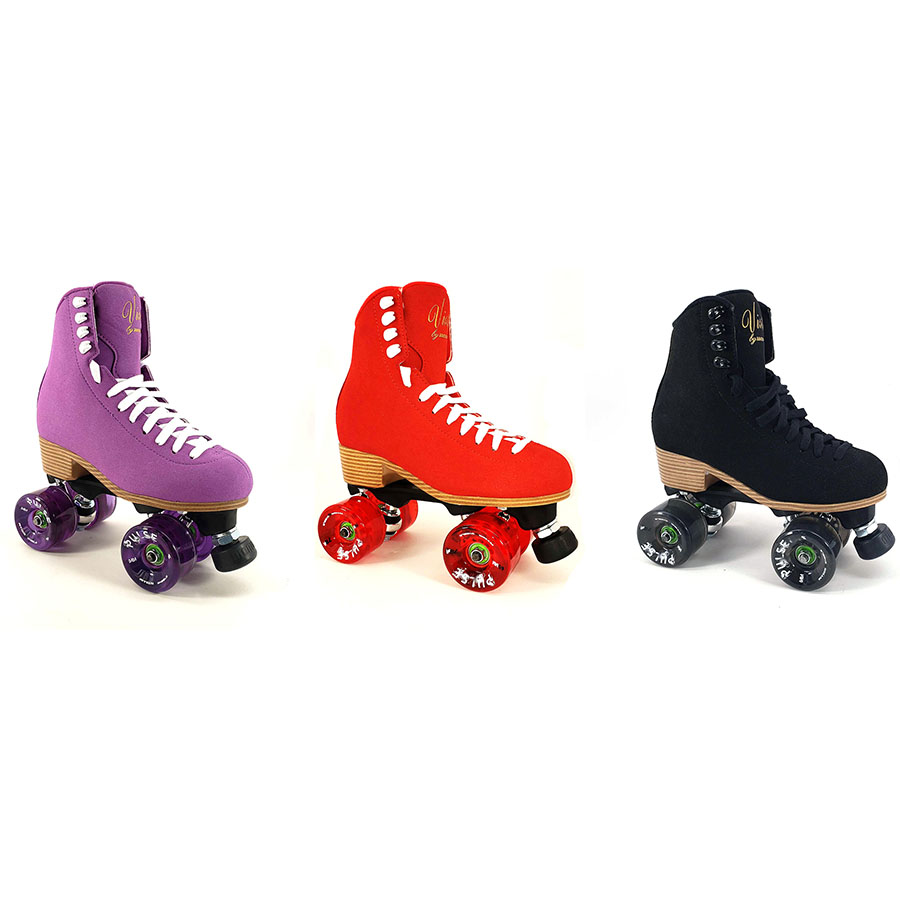 The Jackson Vista High Boot Outdoor Skate is a stylish, suede skate intended for outdoor use. This skate is actually great for outdoor OR indoor fun! The Jackson Vista comes in 3 colors and features a durable plate, Bionic Abec7 Bearings, and Atom Pulse wheels. For indoor use, swap the wheels to Sonar Zen.
Moxi Beach Bunny Roller Skates
The Moxi Beach Bunny Vegan Roller Skates are more affordable than the Moxi Ivy and even more awesome. The Beach Bunny drym-dyed vinyl boots are attached to smaller outdoor wheels for dance skating and hitting some tricks. You'll love the glitter polyester laces and matching toe caps. These skates are available in Peach Blanket, Periwinkle Sunset, and Blue Sky which are all available in sizes 1-10 so both kids and adults can enjoy them.
How to Choose Skate Wheels by Skip Clinton
The video below discusses the basics of choosing wheels for skating on different surfaces. Remember that softer wheels are better for outdoors because they have more "give" to allow you to bounce or roll over small sticks, cracks, and rocks. But, softer wheels will also slow you down because they don't roll as easily on hard surfaces! Harder wheels aren't good for outdoors and will wear out quickly if you use them outside on rough surfaces. There are also hybrid wheels that can be used outdoors and indoors!
Wheels for Outdoor Quad Skates
Outdoor roller skates differ from indoor skates mainly due to the wheels. If you intend to skate outdoors, it is ideal to have softer, wider wheels like the ones below and bearings like the Bionic Abec 7s. Soft wheels provide a smoother roll on non-smooth surfaces and terrain. For outdoor skates, soft wheels are also preferable because they more absorbent to shock. Don't forget, you can always contact us to adjust the wheels offered on any skate you purchase. We are always happy to help!
Atom Pulse Wheels
The Atom Pulse Wheels are the best selling quad outdoor wheel on the market so if you're looking for wheels to skate on hard or rough outdoor surfaces, look no further! These wheels are soft enough that you don't feel every bump, but roll as smoothly as any other hybrid wheel. Check out all of the color options on these awesome wheels!
Mota Freedom Wheels
The Mota Freedom Wheels are a great outdoor wheel at 61mm diameter and 82A hardness. The name of these Mota wheels say it all. Freedom wheels give you the smooth, fast roll, that you need to skate when and where you want. So, feel the Freedom to go out and explore your world with your skates and let your wings out with freedom wheels from Mota.
Crazy Candy Outdoor Wheels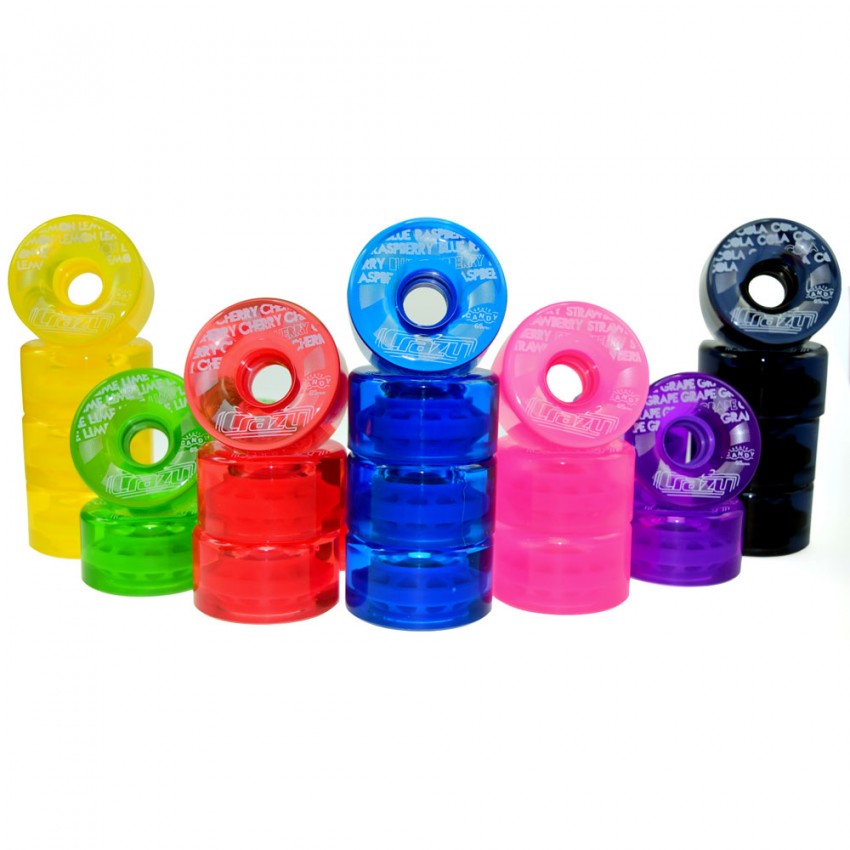 The Crazy Candy Outdoor Wheels are a very popular outdoor wheel that come in a variety of colors. Like other similar outdoors wheels, the crazy candy wheel measures in at a 78A. Check this wheel out if you are an outdoor skater, you will not be disappointed.
Radar Energy Wheels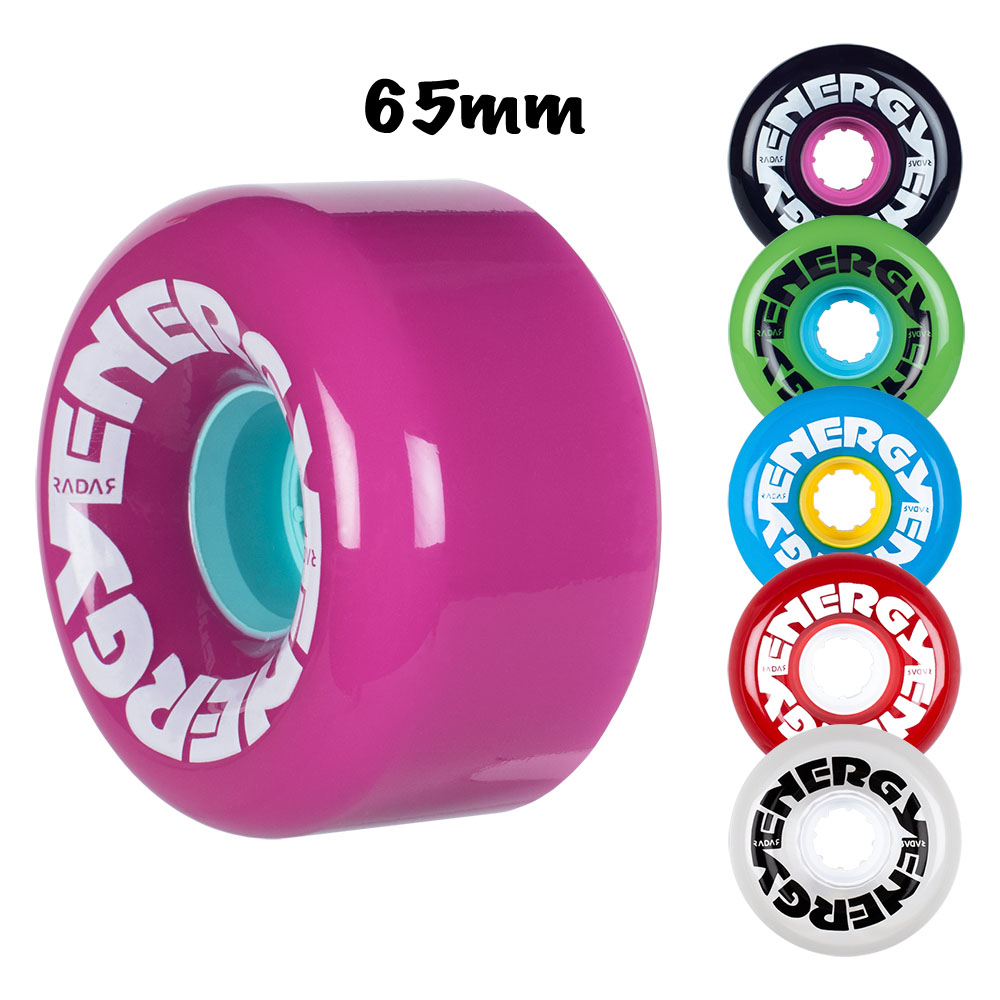 The Radar Energy Wheels are a very popular outdoor wheel. This outdoor wheel measures in at a 78A. Check this wheel out if you are a big outdoor skater, you will not be disappointed. The new 57 energy wheels come in Red and the 62mm and 65mm wheels come in three bright colors each.
Atom Poison Savant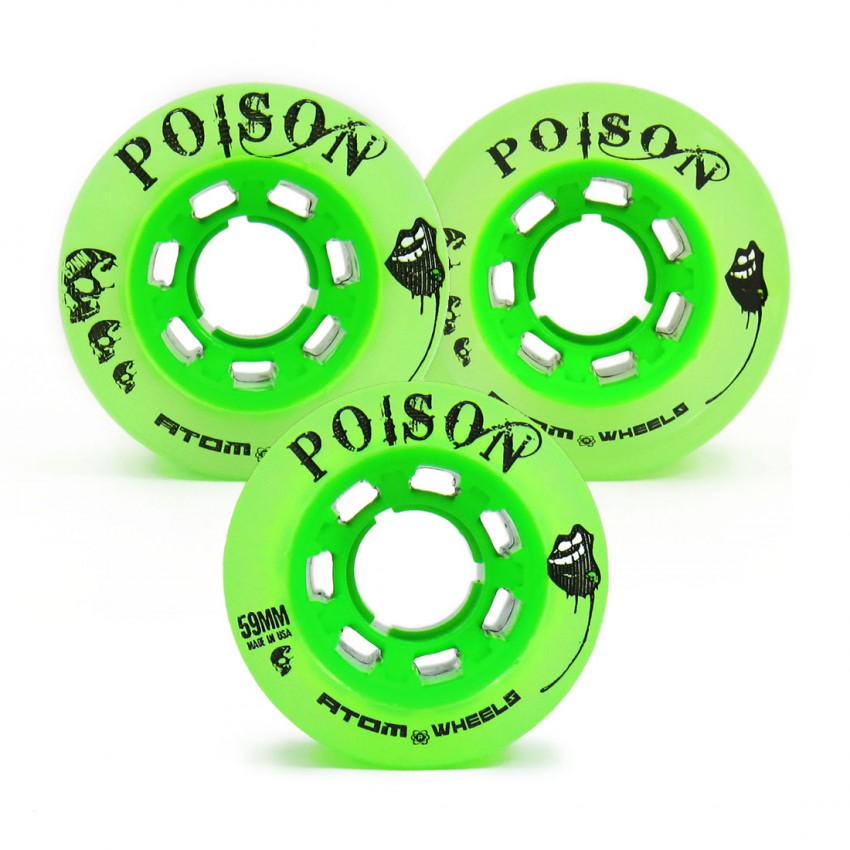 The Atom Poison Savant is an even lighter upgrade to the top selling wheel ever that is great for indoor and outdoor use. This wheel is the most popular soft wheel for a reason: it works. Even after outperforming most wheels in the industry, the newest models have been given the innovative Power Lip to increase their grip and give more stabilty. You can now get these wheels in 5 great colors.
Luminous LED Quad Light Up Skate Wheels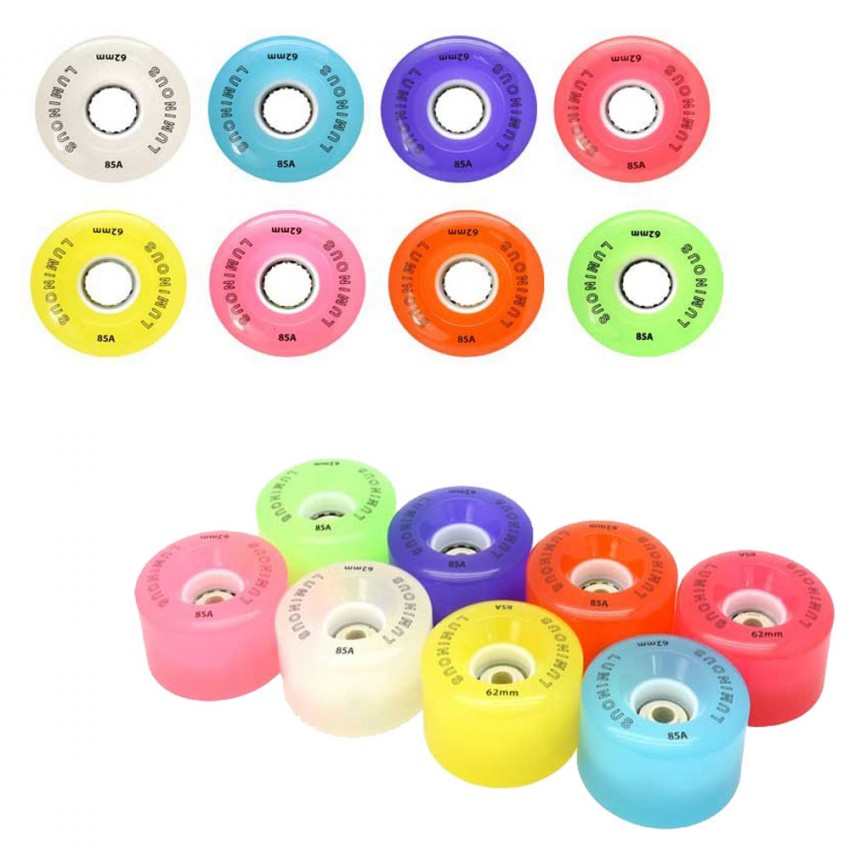 Light up your world with these amazing Luminous LED Quad Light Up Skate Wheels! As you cruise, these LED wheels light up and cause the exterior color to glow magnificently, illuminating your every move. These wheels are available in EIGHT different colors, Blue, Green, Orange, Pink, Purple, Red, White and Yellow, with a hardness rating of 85A. They sell as a four pack, so feel free to mix and match too! Be a light in the world and glow the night away!
Wheels for Outdoor Inline Skates
Inline skaters are particular about the wheels they use. Each person is different, but in general the wheels that come on the skate packages are usually pretty good. However, some people want the ultimate in performance and the wheels recommened below are the best the industry has to offer.
Seba Street Invaders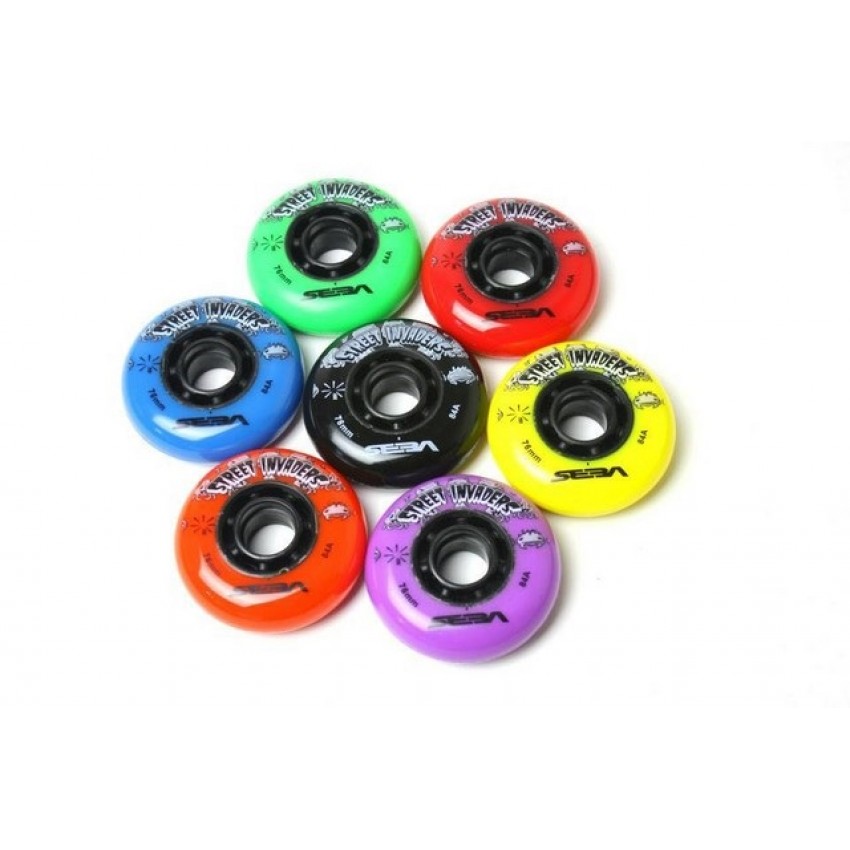 The Seba Street Invaders are awesome inline wheels for freeride and recreational outdoor use. These colorful wheels are designed for slalom and freestyle skating. The Seba Street Invader wheels have a wider profile then previous Seba wheels, providing a bigger footprint for greater grip and control.
Atom Matrix Inline Wheels
The Atom Matrix Inline Wheels are a go to for fitness and recreational skaters because they fly outdoors! Trust yourself and skate at speeds and angles recently only possible in your dreams. The Atom Matrix Outdoor Wheels are durable and made to last on rough surfaces. Enjoy skating outside with the best wheel in the business!
Luminous Inline Wheels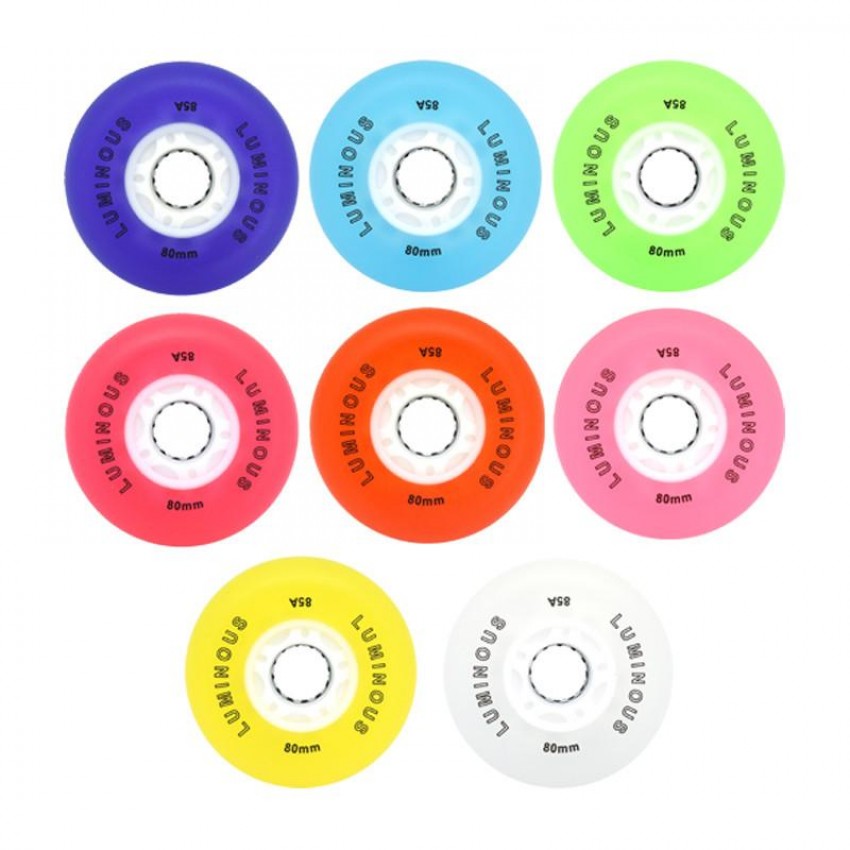 The Luminous Inline Wheels will light up your world and keep you safer on the strees, especially if you're commuting on them most nights! As you cruise, these LED wheels light up and cause the exterior color to glow magnificently, illuminating your every move! These wheels are available in EIGHT different colors with a hardness rating of 85A. They sell as a four pack, so feel free to mix and match too!
Atom Boom Magic Inline Wheels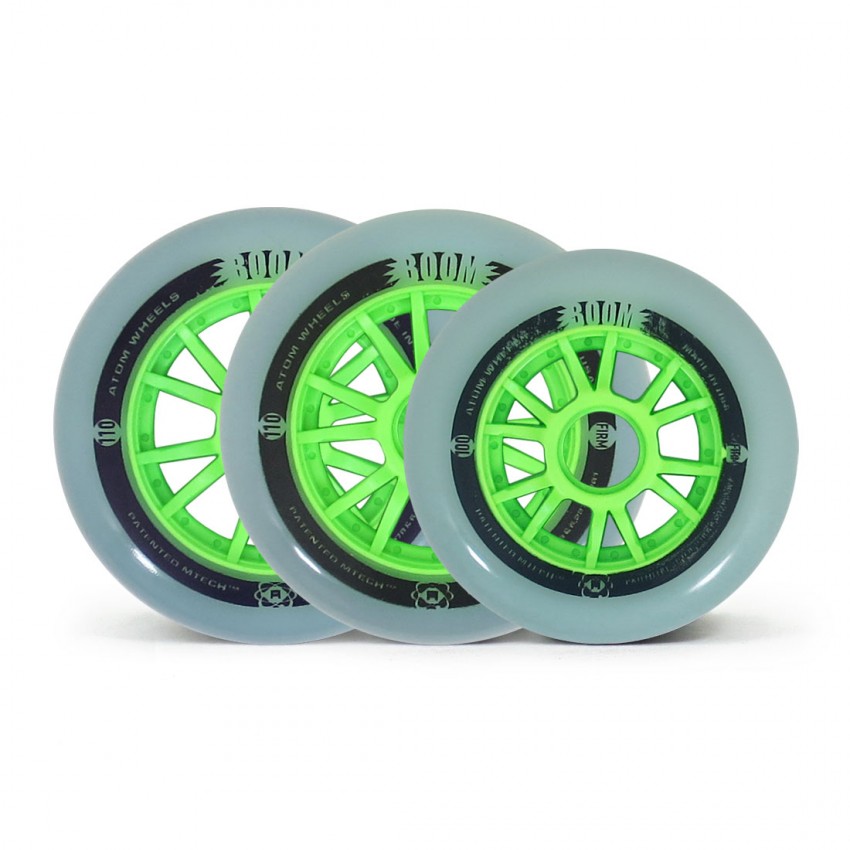 Do you have the need for speed!? Then the Atom Boom Magic Inline Wheels are for you. Now you can have all the performance of the number one road wheel in the world on the track with these super popular wheels. With MPC urethane and Inline Encompassed Technology, these wheels are sure to dominate the any surface!