"Swiss" Bearings is actually a term apparently coined by George Powell and Bones in the '80s (Reference on Swiss Bearings). In the 1980s there were several manufacturers of bearings in America, but Japan and Germany (Fafnir) starting creating bearings that were better quality and less expensive. Because of this, George went on a mission to find the very best technology for bearings, and in doing so he stumbled across those made in Switzerland. These bearings had several very unique pieces of technology that allowed them to function at a level never seen before. He called these bearings "Bones Swiss" and the name stuck. Eventually, other brands jumped on the bandwagon and started to produce "Swiss" bearings.
Swiss bearings do not necessarily have specific components that make them "Swiss". However, you should expect a much higher quality bearing because in general Swiss bearings are created with better technology than standard bearings. Basically, the term "Swiss" is an issue of history and technology and not necessarily a bearing made in Switzerland, though some of them still are. The technology of a "Swiss" bearing has to do with the casing of the bearing, the inside race, and the outside shields. So, in other words, any bearing that has some or all of these technologies qualifies as a "Swiss" bearing.
Many companies produce a "Swiss" bearing today. In our experience, many of the "Swiss" bearings today aren't up to par with what was done in the past. Brands like Bones (the original) or Bionic are trustworthy brands that produce a high quality "Swiss" bearing. Keep in mind most of these bearings are actually made in China and not Switzerland.
Check out our additional information and recommendations below as well as our full selection of bearings in the Bearings section of our website, and you will be sure to find the best bearings to suit your needs and level of skating! Don't forget to vote in our poll!! Last year the results were neck and neck, so we want to hear from you and see how it turns out in 2018.
Swiss Bearing Information and Recommendations
How do Swiss Bearings Differ from Standard Bearings?
ABEC Rating vs. Swiss
Bearings are generally rated by the ABEC system. The details of this rating are beyond the scope of this article, but in short there are three main ABEC categories that skaters pay attention to: ABEC-5, ABEC-7, and ABEC-9. In theory, the higher the rating the longer the bearing lasts and the faster you roll. The most important thing to remember about the ABEC rating is that it is strictly a measurement of tolerances. That means, if the bearings are manufactured within specific tolerances, they meet the abec rating assigned. What the manufacturers don't mention about these ratings is that the bearings are tested on a machine and spun harder, faster, and longer than any human being could ever achieve. Therefore, the ABEC rating is kind of a joke on the consumer. We're not saying there's no difference in the ratings, we're just saying that you probably can't tell the difference because you will never spin the bearings hard, fast, or long enough to tell. Plus, there are so many other factors that are involved with how a bearing performs, the ABEC ratings simply don't tell the entire story.
Swiss bearings, on the other hand, do not possess an ABEC rating at all. They're simply rated as "Swiss". Again, this means the technology and durability should be in line with the original "Swiss" bearings everyone fell in love with a few decades ago. If all of that wasn't enough information, you can also take a look at our article What Are Ceramic bearings?
Standard Bearings and Swiss Bearings Differ Significantly in Cost
Price is one of the major differences between standard and Swiss bearings. The reason is that it's slightly more expensive to produce a Swiss bearing because of the superior technologies discussed above. However, there is absolutely no reason for a Swiss bearing to be five times the cost of a standard bearing. One of the reasons the cost of a "Swiss" bearing is so high is because when the bearings were first made in Switzerland, it was extremely expensive to get them to the US market. The price was set high from the beginning and the price has always remained high even though most "Swiss" bearings are now made in China and are cheaper to produce than they were at first.
Our advice? You choose. You can buy "cheap" bearings and maintain them well, and they will probably perform just as well as Swiss bearings. If you're going to pay a lot of money for Swiss bearings, make sure you get a brand that makes use of the latest technologies. Otherwise, you're going to be getting a crap bearing and paying a hefty price (in more ways than one). Focus more on the quality and brand of the bearing rather than the ABEC rating or "Swiss" term associated. By choosing a brand that stands by its production quality, you will always win in the end.
So… Are Swiss Bearings Just a Myth?
Are Swiss bearings worth it? People ask us this regularly. The answer depends on the skater. Swiss bearings can make you perform better in a variety of conditions. For example, if you're going downhill at 100 MPH for three hours you probably will appreciate the performance of your Swiss bearings. But, as to how much better Swiss bearings will make you perform during reasonable and standard use, we argue that it's unlikely you will see a scientifically measurable difference in your performance due to these bearings. Swiss bearings could provide you with more confidence in your equipment and that might lead to a better performance. But as for a measurable difference based on scientific evidence, we don't think you will be impressed. It is likely your ABEC-5 bearings will perform just as well, provided they are cleaned regularly and properly maintained.
In some cases, skaters might actually want to spend the money on Swiss bearings and there are several reasons why.
Swiss Bearings Recommendations
Extremely Active Skaters Might Choose Swiss Bearings
Swiss bearings are good choice if you skate every day. If you maintain your bearings and you've chosen a brand that is trustworthy, there is no reason you cannot use the same bearings for 20 years. The guys trying to sell you bearings will call us crazy, but we're right. The amount of wear and tear you put on your bearings might seem intense, but the components that make up true Swiss bearings will not break down in most circumstances. You cannot wear these bearings out. You're just one person and it takes a machine. As long as you properly maintain the bearings, you will have bearings for life.
Because of the technologies implemented in most Swiss bearings, the bearings perform better overall. Notice we aren't stating that the bearings will make you go faster or make you a better skater. That isn't true at all. We also cannot state how much better the bearings are than standard bearings. But Swiss bearings perform "better" indoors and outdoors overall. They perform better when they're dirty. They perform better when they're clean. They do outperform standard bearings and last longer, even if it is only by a very, very slim margin.
Yolo Swiss Bearings (Most Popular)
With precision steel balls, double honed inner and outer races, and deeper nylon grooves specifically for skating, these Yolo Swiss Bearings will treat you right. They are ready right out of the package and easy to clean, too! But, what makes these bearings special is that you can choose what color bearing you want – red, green, orange, blue, purple, pink, and black! This will make your skates extremely unique!
Bionic Swiss Bearings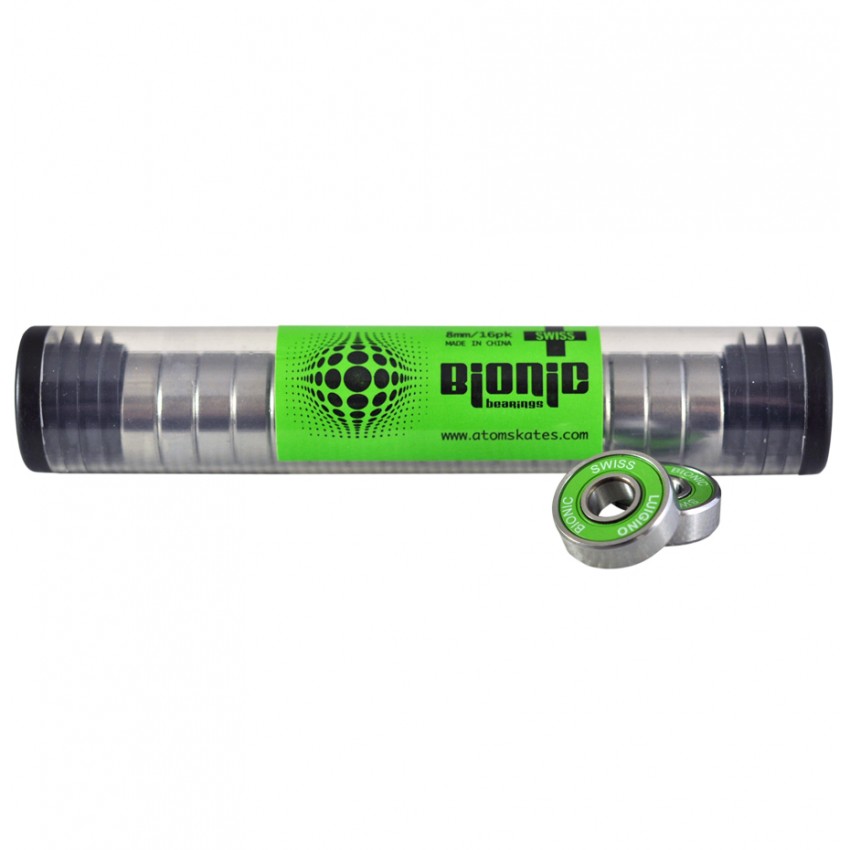 The Bionic Swiss Bearings are made of titanium and roll forever! These bearings have deeper grooves, double honed races for smoother, faster and longer lasting bearings. They also utilize shields to protect the internal parts of the bearing from dirt and liquids, enhancing their longevity.
Moto Premium Swiss Bearings
The Moto Premium Swiss Bearings are built with precision Swiss parts that are bonded with an extremely hard "tinite" ceramic coating, and also feature the industry's only "oil thru" shields. This means that when oil is placed on the bearings it is distributed evenly. The Tinite coating process hardens the running surfaces and not only improves durability and glide, but also reduces friction, which requires less oiling. The coating also give these bearings the rainbow look to them: function and fashion!
For more information on skate bearings, please check out our guide to skate bearings.
Suggested Bearing Maintenance for Indoor and Outdoor Skating
Just a reminder! Whether you are Fresh Meat or a seasoned skater, we want to remind you to clean and check your bearings regularly! They will last longer, remain smooth on the track, and even help you skate better. With just a few minutes of cleaning and lubricating bearings after each use, or as often as you can, you maximize the lifespan, durability and speed of your wheels.