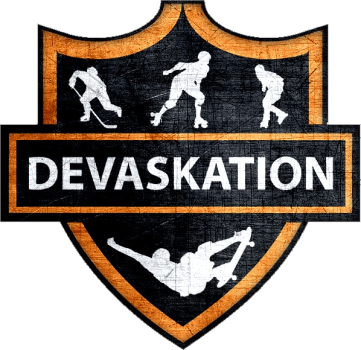 Roller Skates
Roller skating is great exercise for adults and fun for all ages. Devaskation.com carries roller skates for men, women, and children. We carry indoor skates for skating inside on rinks and smooth surfaces. We also carry a great variety of outdoor roller skates (or quad skates) to skate on streets, sidewalks, concrete and asphalt. Skates are unique to the skater and Devaskation.com offers custom indoor and outdoor skates to those that need the very best. You pick the components and we will build a custom roller skate for your skating style. Some popular roller skate styles are Recreational/Rink, Artistic, Jam, Outdoor, Speed, Rhythm, and Dance. There are many factors involved when choosing the right skate including boot, fit, components, price, wheels, and weight. No matter what you want to do in your skates, we typically have a solution that will fit you. When you buy a roller skate from Devaskation you are purchasing a quality roller skate!
Roller skates are a type of footwear with wheels that are designed to be used for recreational or competitive skating activities. They are typically worn on the feet, with wheels mounted underneath the boot or shoe.
Roller skates can come in many different types and styles, including traditional quad roller skates, inline skates, speed skates, and roller derby skates. Each type of roller skate has its own unique features and benefits, depending on the user's skill level and intended use.
Quad roller skates, which have four wheels arranged in a square configuration, are often preferred by recreational and artistic skaters, while inline skates, which have a line of wheels arranged in a row, are often used by fitness skaters and inline hockey players.
Speed skates, as the name suggests, are designed for speed and are typically used for racing or long-distance skating, while roller derby skates are designed for the aggressive and fast-paced sport of roller derby.
Roller skates can be used for a variety of activities, including indoor and outdoor skating, dance and artistic skating, roller hockey, and roller derby. They are also a popular form of transportation for short distances, especially in urban areas where sidewalks and smooth pavement are available.
Overall, roller skates are a versatile and fun way to stay active and enjoy the thrill of skating on wheels.
Want even more information on roller skates? Check out all of our articles on Quad Roller Skates!