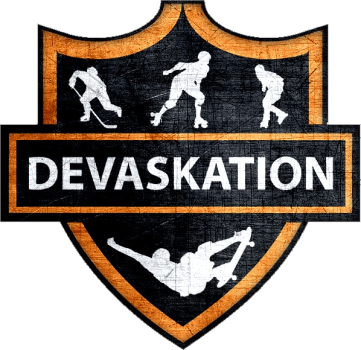 Inline Skate Wheels
Inline wheels are used in "Rollerblades" or inline skates and are generally specific for type of skating. Inline wheels are used indoors or outdoors, depending on the specifications of the wheel. The biggest difference in inline wheels vs. quad skate wheels is that inline wheels are about a third of the width and can be about twice as tall. The thinner wheel makes the push faster for skaters and also reduces friction on sidewalks, streets, and asphalt. Inline wheels are measured with a "durometer" that delineates the hardness of the wheel. Remember though the lower the durometer number, the more likely the wheel is best used outdoors.
Inline skate wheels are interchangeable and easy to replace as long as you know how to choose wheels for your skating surface and style. Most wheels have 2 numbers: 1 Hardness (or durometer) and one size in MMs. So, simply match the hardness and size numbers of your old wheels to your new wheels and you should be all good! If you have questions about inline or "rollerblade" skate wheels, contact us!
Other Information on Inline Skate Wheels
The best inline wheels for sidewalks, rinks, roads, concrete, or asphalt are listed below. If you see a brand we should carry, let us know.