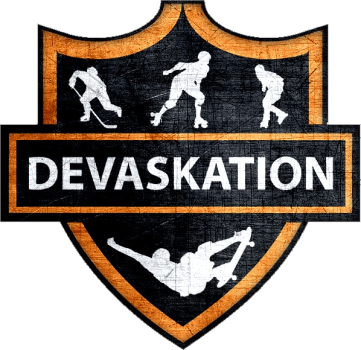 Rhythm Skates
Devaskation carries the best rhythm and dance skates (also called James Brown or JB skating) on the market today including skates from brands like Moxi, Riedell, Atom, and Sure-Grip! Rhythm and dance skates are extremely popular these days and we have some of the best skates on the market for this hobby. There are many features of rhythm and dance skates that are important when choosing the best skate for you. The boot you choose is extremely important. A high-top boot will provide ankle support and a stiff leather boot can help you avoid ankle sprains and injuries. Some boots use thin material that will not give you proper support, so be careful when you're shopping for dance/rhythm/JB boots. Another thing that is important when choose rhythm and dance skates is the wheel choice. You may need a harder wheel if you're going to slide around the rink, but you might need a softer wheel if you're looking for more grip or outdoor use. Depending on your dance style, choosing the right wheel is extremely important. Dancing on the rink is different than dancing outside on concrete, so make sure you choose the proper components to hit those moves you've been practicing!
Rhythm and dance skates are a type of roller skate designed specifically for dance and rhythm skating, a style of roller skating that emphasizes fluid movement, musicality, and expression through dance and choreography. They are characterized by their low-cut boots, which provide flexibility and range of motion for the foot and ankle, and their four wheels arranged in a square configuration.
Rhythm and dance skates typically have smaller and harder wheels than other types of quad skates, which provide greater control and precision for the skater. They also often feature a toe stop, which can be used to slow down or stop the skater, as well as a jam plug, which can be used to cover the toe stop and allow for more freedom of movement during dance routines.
Rhythm and dance skates are used in competitive dance skating events, as well as for recreational dance skating and freestyle roller skating. They are also a popular choice for skaters who want to improve their balance, coordination, and musicality on the roller skating rink.
Overall, rhythm and dance skates are a stylish and functional choice for skaters who want to express their creativity and individuality through dance and movement on roller skates.